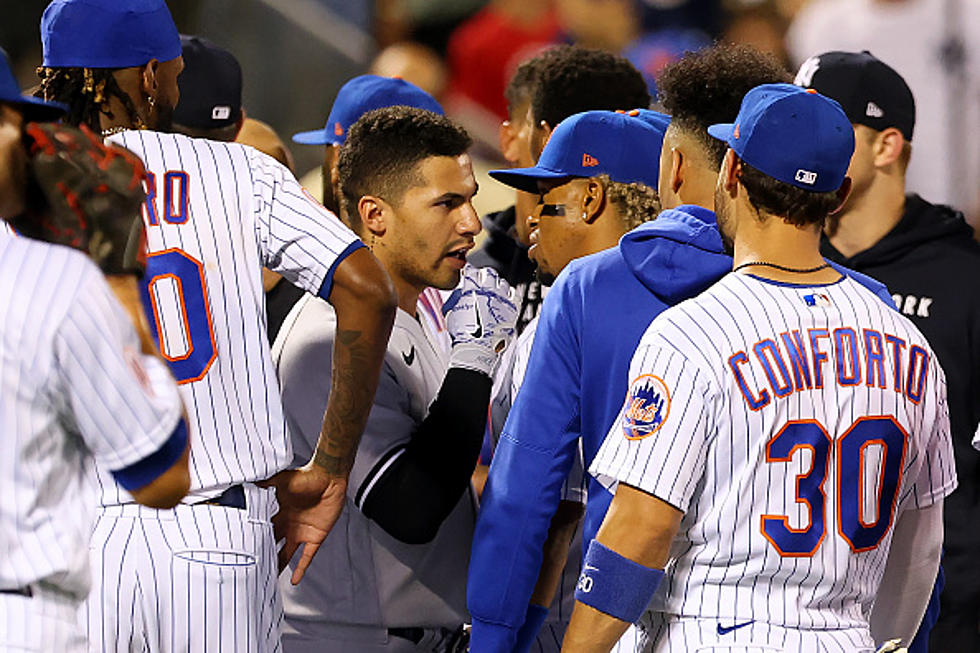 Base-Brawl Night in New York!
Getty Images
The evening was full of playoff pressure for both the New York Yankees and the Mets at Citi Field last night. The two teams had split the 3 game series so far. Both teams are in their respective Wild Card races and the Mets have a fading chance to return to the top of the National League East with dwindling opportunities. The high emotions surrounding the 9/11 anniversary game on Saturday were behind them. It was back to the business at hand, make the playoffs.
The game couldn't have been more entertaining. Yankee fans dressed in pinstripes invaded Citi Field in large numbers to take on their family and friends decked in blue and orange. Often these two teams meet in May and June when playoff implications are months away. This time the nerves of the electric fan bases were frayed way beyond NYC bragging rights. Toronto had won earlier in the afternoon, crushing the Orioles 22-7 (nope, not a football game). Everyone knew, with a loss last night, the Yankees would join the Mets outside of the MLB playoff picture.
The game got even more entertaining in the top of the 7th inning when Giancarlo Stanton hit a game tying home run and rounded the bases. As Stanton approached second, he and Mets shortstop Francisco Lindor began to exchange words on such a level that I have never seen during a home run trot. Stanton almost stopped to jaw with Lindor.
According to a friend of the The Drive with Charlie & Dan, Deesha Thosar of the New York Daily News, "Lindor started the taunting on Sunday in the sixth inning, after he crushed his second home run of the game to extend the Mets lead. He blew a whistle at the Yankees during his trip around the bases, apparently mocking the Bombers for blowing whistles during Saturday's game. The Yankees reportedly picked up on Taijuan Walker tipping his pitches in the first inning Saturday before third baseman Jonathan Villar alerted the Mets pitcher of the opposing team's tactics. Stanton, after Sunday's game, denied that report."
The Mets prevailed 7-6 on an 8th inning home run by none other than Francisco Lindor. Lindor, who has been a target of the Mets fans boo-birds, received a curtain call following his 3rd round-tripper of the evening. No matter what, entertaining playoff hunt baseball is going on with both teams in September and that is a good thing. Yes, the Yankees are sinking and the Mets can't keep afloat but they are both in it. The Drive with Charlie & Dan will follow Monday's 2pm Yankees vs. Twins make-up. Yankee pre-game with John Sterling and Suzyn Waldman starts at 1:30p on 104.5 FM, The TEAM, WTMM.
The 40 Best Cover Songs by Rock Bands