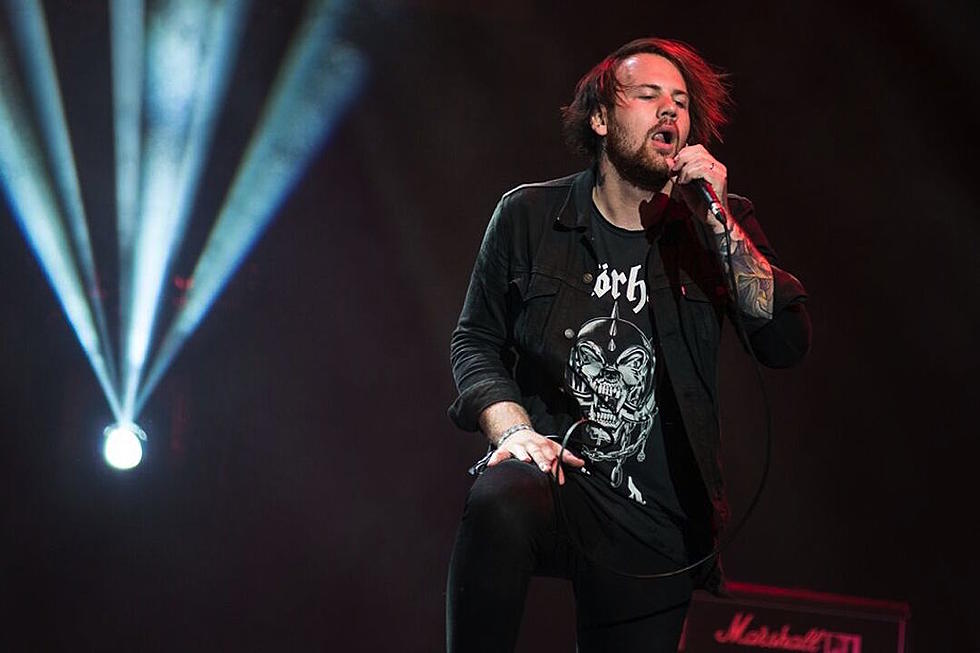 Beartooth's Caleb Shomo: Taking a Year Off Reinforced Love for Touring [Interview]
Geoffrey Ketler, Aces High Photography
Beartooth vocalist Caleb Shomo was the guest on Full Metal Jackie's weekend radio program. He discussed Beartooth's sophomore effort, 'Aggressive,' and how they've shifted from a project to a fully-fledged band. Shomo also explained the concept of anger behind the record and the growing Ohio scene from which the band hails from.
I'm very good. It's good to be here, thanks for having me.
New Beartooth album is called Aggressive and it's out now. Originally Beartooth wasn't even a band. It was just the name to identify some songs that you wrote. In terms of people bonding together and developing as a band, why is this new album, Aggressive, important?
I think it's just a new step. I think it's a bit of growth, a bit of just trying to take things a bit more serious. After the first record and even the first EP, like I said, it's not really feeling like something that was going to be such a serious thing and then after doing the first record cycle we just all fell in love with it. All of the members got solidified, we just want to take this thing as far as it can go and have a good time doing it. I think this record is a pretty big step in that direction.
Caleb, why is your background in electronic music so important to the way you write music for Beartooth?
[Laughs] To be honest, I think with Beartooth, one aspect of it is just the structuring of songs is a bit more straightforward, kind of pop music. But, obviously it's still straight up metal and rock 'n' roll and all of that. I think getting into different types of music growing up kinda helped me, I guess hopefully stay diverse in the way I'm writing songs. But as electronic music in general, these days it's full time Beartooth. I haven't done too much electronic stuff lately. Who knows, maybe sometime I'll get back into it.
The songs on Aggressive were written based on an emotional theme of anger. Did you channel that emotion like an actor or was it all first hand from within?
For the most part it's all pretty raw emotion. The way the songs get written are usually in a dark basement in the winter and I just try and — get into that headspace and block everything else out. There's just a lot of things that have been getting to me over the years and these songs are about those things. They're also about trying to better myself and doing whatever it takes, no matter what the approach is to try and keep my head on straight. So, I guess the name Aggressive falls in line with that.
What affected you most about the experience of touring the first album?
I think just getting thrown back into a full touring cycle again was a little bit of a shock to the system. Going from a band prior, touring a ton and then taking about a year off and then going in constant touring, it can just get a little bit intense. But I think if anything, it made me realize how much I genuinely love doing it. Being surrounded by really good people really helps. I have the best friends in the world. We get to travel around and play our favorite music. It's pretty awesome. I think that made me want to push the second record even further so we can keep doing it.
The number of significant bands coming out of central Ohio seems to be growing. How has an active music community helped Beartooth?
It's great, just having supportive friends and seeing again, local people just killing it. It's inspiring. I think it definitely pushes up to try and keep our heads on and it's cool whenever you see those people from Ohio that are also doing well, you can catch up and see how life's been going. It's just a cool experience. Very good community in Ohio.
Looks like you guys have quite a bit of touring in the upcoming months.
Yeah, we do. We got a lot of stuff going on. We got this U.S. tour that we're on currently. We have a ton of that left, then we're doing our U.K. / Europe leg of the Aggressive tour. After that, we're just going to be going all over the world doing the full record cycle touring thing again, so definitely come check it out.
Thanks to Caleb Shomo for the interview. Beartooth will be out on tour with Bring Me the Horizon and Underoath starting in March of next year. Get the full list of dates at our Rock + Metal Tour Guide and keep up with everything the band is doing by following their Facebook page. Pick up 'Aggressive' at Amazon or iTunes and find out where you can hear Full Metal Jackie's weekend show at this location.
See Bearthooth's Aggressive + More of the Best Rock Albums of 2016 (So Far)