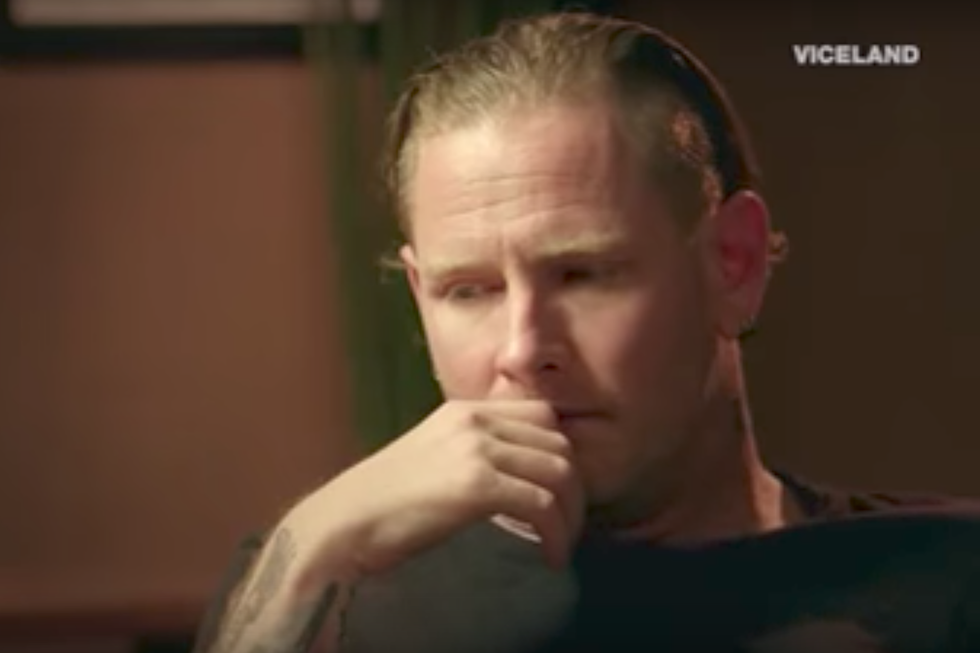 Corey Taylor Opens Up About Being Sexually Assaulted at Age 10
Viceland
Corey Taylor has opened up about a disturbing part of his past. In an episode of Viceland's The Therapist, Corey revealed that he was sexually assaulted at the age of 10 by a neighborhood kid.
The Slipknot / Stone Sour vocalist sat down with Dr. Siri Sat Sam Singh for an intense therapy session caught on camera. Taylor spoke about difficulties from his childhood including domestic violence, drug abuse, poverty, a suicide attempt and, for the first time on film, being raped.
"I was raped by someone in the neighborhood," said while holding back tears. "Where we were living at the time—we moved around a lot so obviously I had to make friends quickly. There was really only one person to hang out with, to play with and he was this 16-year-old kid. And he would invite me over to his house to play music and one day it became something else."
"I didn't tell anybody for a long time because he threatened to hurt me and threatened to hurt my mom," Taylor added. "He ended up burning his house down. They fled in the night, it was kind of crazy. It took me a long time to feel safe. I didn't tell anybody until I was, probably, 18. By that time, I had found my tribe, as it were, of misfits."
Corey closed out his session by speaking about his own children. "The only thing I ever wanted to be is a dad," Corey said. "I never want my kids to go through what I went through, so it was very important for me to, right out of the gate, set up college funds. Bills were paid, clothes were bought, food was made, everything… solid foundation. They don't have to worry about anything, they're protected."
Corey Taylor's full episode of The Therapist can be viewed with a subscription to Viceland. The Therapist is listed as "coming soon" to the Viceland TV channel.
See Slipknot in Our Top 100 Hard Rock + Metal Albums of the 21st Century
Corey Taylor Reflects on Chris Cornell's Impact on Him