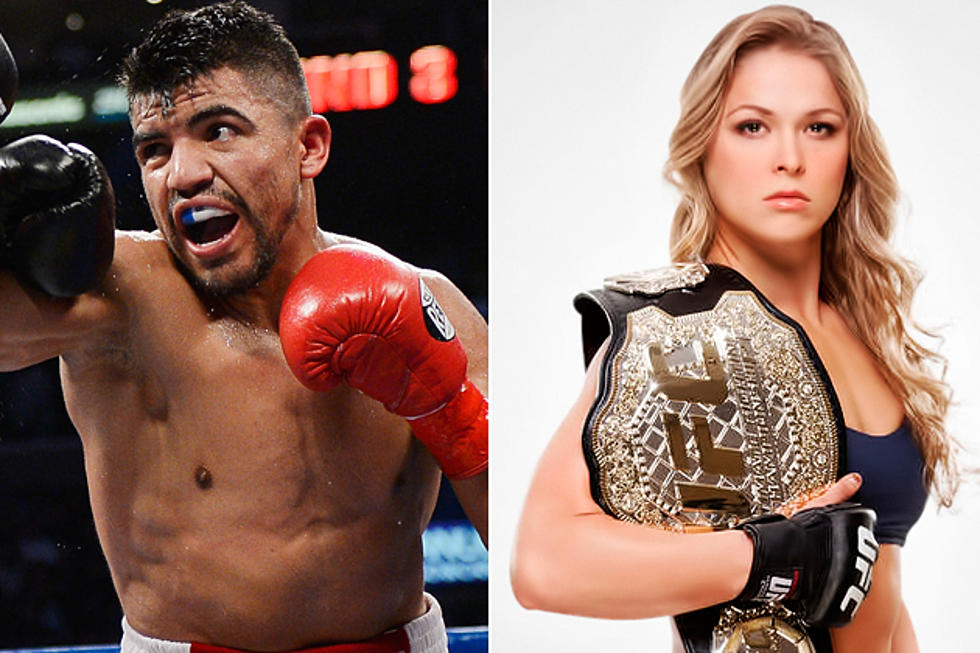 'The Expendables 3′ Recruits Pro Boxer Victor Ortiz and UFC Champ Ronda Rousey
Getty Images/UFC
Sly Stallone continues to build upon his already-impressive 'The Expendables 3' cast; just yesterday it was indicated that 'Twilight' hunk Kellan Lutz was looking to join the team, and today we find that the film is bringing aboard a couple of "real life" badasses: pro boxer Victor Ortiz and MMA champ Ronda Rousey!
Those two names aren't exactly of the household variety, but they're well known in the professional fighting circuit. Stallone has previously dipped into this world with the casting of Randy Couture (once a UFC champ) and Steve Austin (former WWF and WWE athlete).
Ortiz is an American boxer and former UFC Welterweight champ with a professional record of 29 wins, four losses and two draws. Meanwhile, Rousey is the current UFC Women's Bantamweight Champion. She's also the first American woman to earn an Olympic medal in Judo at the Summer Olympics in Beijing in 2008. (Thanks, Wikipedia!)
In other words, you do not want to mess with either of this duo.