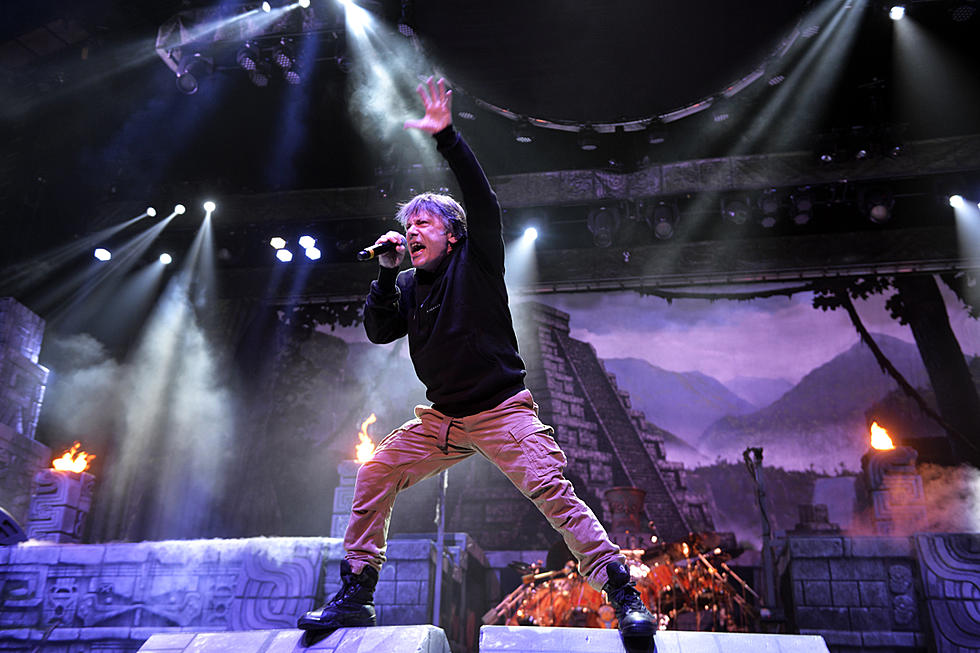 Iron Maiden's 'Paperless Ticketing' System Cuts Down Scalping By 95 Percent
Photo: JOSHUA LOWE
Iron Maiden's crackdown on ticket scalpers has proven to be massively successful! The legendary metal band has confirmed their "paperless ticketing" system has decreased listings on secondary sites by over 95 percent.
Iron Maiden fans are so rabidly passionate that they'd pay almost anything for an amazing seat to see the British six-piece. Sadly, ticket bots would scoop up all the best seats before fans could, forcing thousands to pony up huge amounts of money or settle for the nosebleed section.
To combat bots and scalpers, Iron Maiden implemented a policy that required the purchaser's credit card and ID upon entry to the venue, amongst other measures. Just check out all these stats on the success of Maiden's crackdown:
• In November 2010 when tickets went on sale eight months in advance for Maiden's 10 date 2011 Summer UK arena tour, 6,294 tickets appeared overnight on three of the biggest secondary ticketing platforms (Viagogo, Seatwave, Getmein) compared with just 207 tickets in 2016, all of which were listed only on Viagogo. With secondary ticketing much more developed now, the difference is probably much greater.
• In 2010 Getmein and Seatwave accounted for 67% of the listed tickets. In 2016 both de-listed the Maiden tour at our request so no tickets were available from them. Stubhub also agreed not to list any Maiden tickets, so it was only Viagogo who decided to list and then, before tickets had even gone on sale to the general public,  misleadingly stated there were only a few tickets still available presumably to justify the excessive pricing.
• Of those 207 tickets listed by Viagogo in 2016, most were identified as bogus and are now in the hands of the relevant authorities investigating criminal activity. The few genuine tickets which made their way onto Viagogo have been made null & void per our conditions of ticket purchase.
• Maiden's promoter Live Nation confirms that overall sales are higher than the equivalent sales point in 2010.
• Live Nation also confirms that customer feedback has been excellent and Ticketmaster report that they have had only positive comments about the fact the artist is trying to restrict exploitative pricing via the resale market.
• Having our own dedicated support team helped our Fan Club's ticketing experience be as seamless as possible.
"We are delighted that the paperless ticketing system and other measures we instigated here in the UK have proved a massive deterrent to touts and counterfeiters," says Iron Maiden manager Rod Smallwood. "We want to thank our fans for their enduring support and patience. We appreciate that our stringent policy has meant fans having to jump over one more hurdle in the ticket-buying process but the results speak for themselves and I think everyone can agree this was well worth it. On the first day of public sale, we sold over 100,000 tickets nationwide direct to genuine fans through the proper legitimate channels. This is an incredible achievement and victory for concert-goers, not least as this is a full 12 date UK tour we're undertaking, not just a couple of dates in the bigger cities. We've calculated that around one million pounds worth of mark-up on tickets, is not sitting in the hands of touts, but instead the tickets are sitting in the hands of the fans at the correct price and we think that is a great result and makes all our efforts worthwhile."
The ticket crackdown will ensure fans who see Iron Maiden's upcoming North American tour with Ghost don't have to dig deep in their wallets to afford a ticket. For the full list of tour dates, click here.
50 Most Game-Changing Hard Rock + Metal Albums of All Time
Bruce Dickinson Opens Up on Cancer Battle