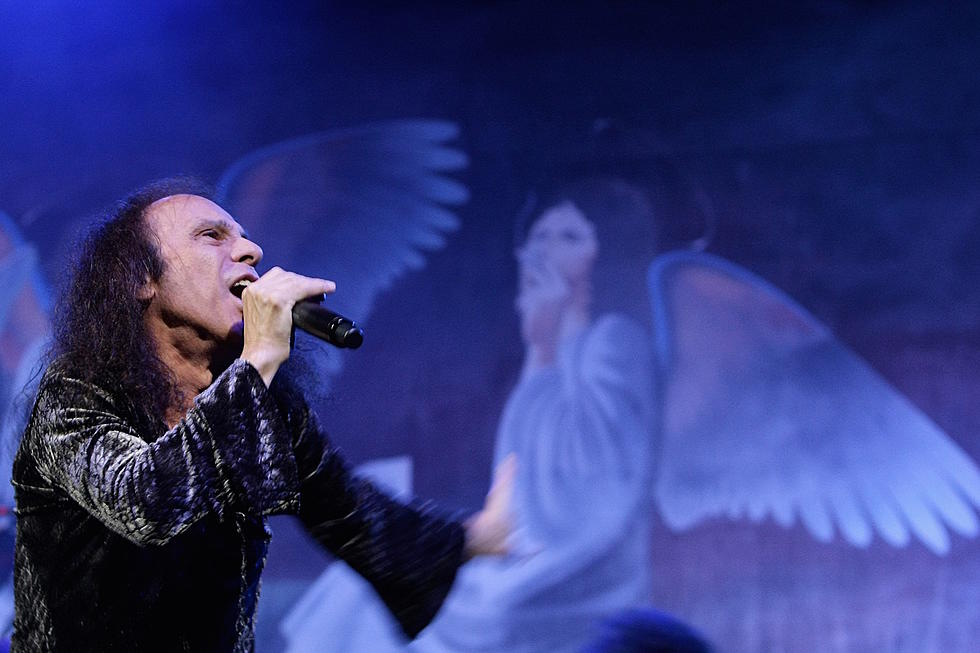 Major Ronnie James Dio Auction Set for September 2018
Robert Cianflone, Getty Images
Ronnie James Dio is the subject of an upcoming Julien's Auction event taking place Sept. 14 and 15 in New York where a number of items from his touring career will be auctioned.
The "Property From the Estate of Ronnie James Dio" auction will include artifacts dating back to his early days fronting Ritchie Blackmore's Rainbow, as well as items from his time with Black Sabbath and of course, you'll find stuff from his self-titled band, Dio.
Some of the items on the block, as seen in photos below, are a sticker-covered wardrobe case, some of his stage clothing, a white Charvel guitar and a painting by Barry Jackson that was used as the cover for Dio's The Last in Line LP. You'll also finds jeans that Ronnie wore with Rainbow that have moon-and-stars patchwork, gold sales plaques for his Rainbow albums, a hooded robe he wore during Black Sabbath's "Mob Rules" tour, the animatronic sphinx from the "Last in Line" tour and a dragon's head from the "Sacred Heart" tour.
"I am glad that Ronnie's extensive collection of items will go to his fans, museums, and collectors around the world to be displayed for all to see and enjoy," stated Wendy Dio. "These items are very special to me but I recognize the historical importance of anything to do with Ronnie and he would want his fans to be able to own, enjoy and see these items for many years to come."
Bidders will have a chance to take part both in person and online on Sept. 14 and 15. For additional details, check out the Julien's Auctions site about the sale here.
Wendy Dio Talks About Ronnie James Dio Hologram
See Ronnie James Dio in the Top 66 Hard Rock + Metal Frontmen of All Time