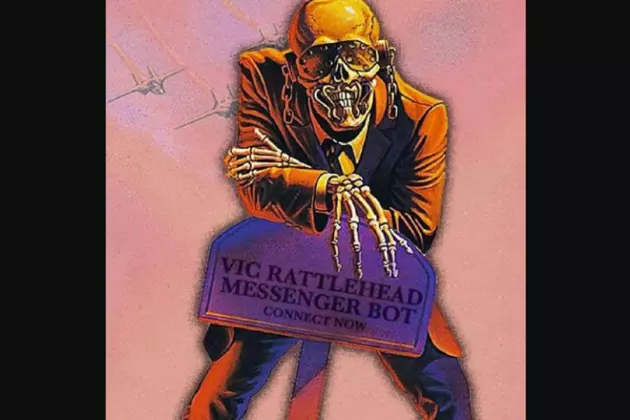 Megadeth Unleash Vic Rattlehead Bot on Facebook Messenger
Megadeth Facebook
Vic Rattlehead is now on Facebook Messenger! The Megadeth mascot is available to chat and, even though he's just a bot, can hook you up with the opportunity to win a Peace Sells guitar signed by frontman Dave Mustaine. Existing Facebook users can connect to Vic by heading here.
"Connect with Vic Rattlehead at Facebook Messenger, where you can enter to win a 'Peace Sells' VMNT guitar, also take quizzes, get merch codes or just pop by and say hello," Mustaine says in a brief video clip which can be viewed below. "But remember - Vic doesn't have any manners."
Megadeth has finished up the touring cycle for their 2016 LP Dystopia, and are looking forward to a possible 2019 spring release date to the follow-up. In a recent interview, Mustaine said that the thrash metal pioneers are tentatively aiming at an April release for the new record. Concurrently, he says the band will also be announcing a "huge festival" set to take place that same month.
"It's kind of the equivalent of Gigantour, but it's a much fresher idea," Mustaine said. "We've got that set up in about 10 cities in April. We're gonna do that again for a three-day weekend in the middle of the year and then we're gonna do probably about another 10 of those dates at the latter part of the year." There's also a "'Murder Who Died' kind of boot camp" cruise that will take place in Europe. "It's a great day to be a Megadeth fan," the frontman added.
10 Greatest Megadeth Riffs