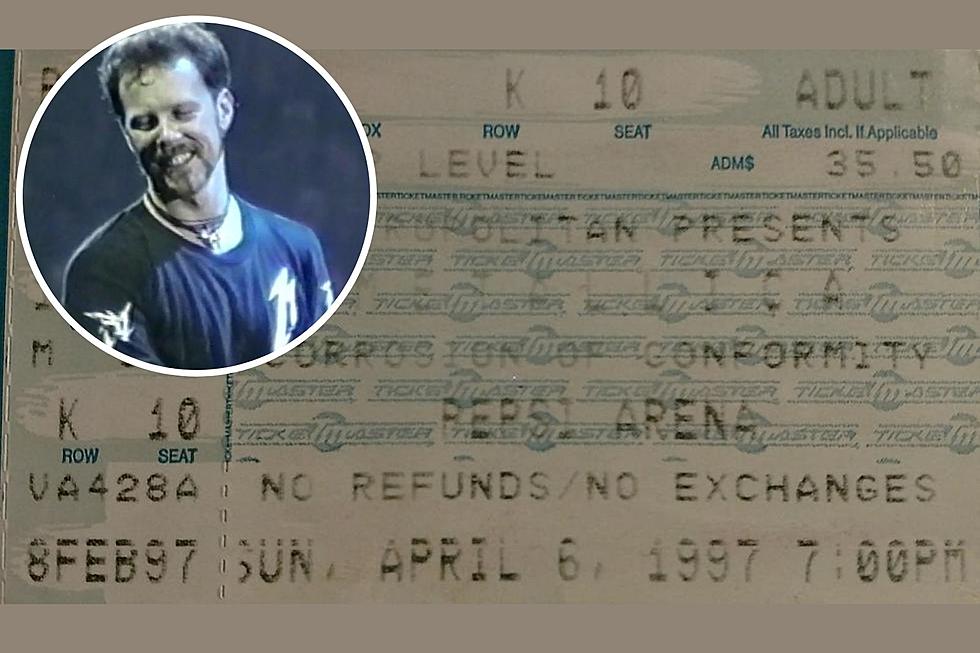 25 Years Ago: Metallica Rocks Albany's Pepsi Arena [Video]
YouTube metfan4I, The Rutigliano Archives
Metallica played Albany, NY 25 years ago this week (April 6, 1997) supporting the album Load.
The Poor Touring Me Tour had Metallica out on the road in support of their sixth studio album Load and the Pepsi Arena (now MVP Arena) stop would feature special guests Corrosion of Conformity. It seems like only yesterday, and hard to believe it's been 25 years. I remember being in attendance for the show and it kicked ass as expected. It would be my second time seeing Metallica live. My first Metallica show was in 1994 on the S**t Hits the Sheds Tour which featured Metallica with Danzig and Suicidal Tendencies at the Orange County Fair Speedway in Middletown, NY.
Metallica Load
Metallica's sixth studio album, Load was released around 5 years after the commercially successful The Black Album, and it saw a change in Metallica's style, shifting more towards the hard rock and away from their thrash metal roots. Although garnering mixed reviews from critics, Load was a commercial success debuting at number 1 on the Billboard 200 chart and going 5 times platinum in the U.S. with singles "Until It Sleeps", "Hero of the Day", "Mama Said" and "King Nothing".
Poor Touring Me
Poor Touring Me was Metallica's 10th concert tour which began in June 1996 and ended in May 1997. The tour name came from the song "Poor Twisted Me" off the Load album. The tour spanned 125 shows in 19 different countries, and the tour would produce the live VHS/DVD release Cunning Stunts.
Set List
The setlist for the Albany show featured tons of Metallica classics along with songs off the album Load and a killer encore "Last Caress", "Master of Puppets", "Enter Sandman", and "Battery". Here's the full setlist from that night:
Metallica at Pepsi Arena Albany, NY (April 6, 1997)
"So What" (Anti-Nowhere League cover)
"Creeping Death"
"Sad But True"
"Ain't My Bitch"
"Hero of the Day"
"King Nothing"
"One"
"Wasting My Hate"
Bass/Guitars solo (including "My Friend of Misery" and Welcome Home (Sanitarium")"
"Nothing Else Matters"
"Until It Sleeps"
"For Whom The Bell Tolls"
"Wherever I May Roam"
"Fade to Black"
"Seek and Destroy" / "Fight Fire With Fire"
Encore:
"Last Caress" (Misfits cover)
"Master of Puppets"
"Enter Sandman"
Encore 2:
"Battery"
Were you at the Metallica show 25 years ago in Albany? Relive the full 1997 Metallica concert in Albany below from YouTube courtesy of metfan4I
All Metallica Songs Ranked