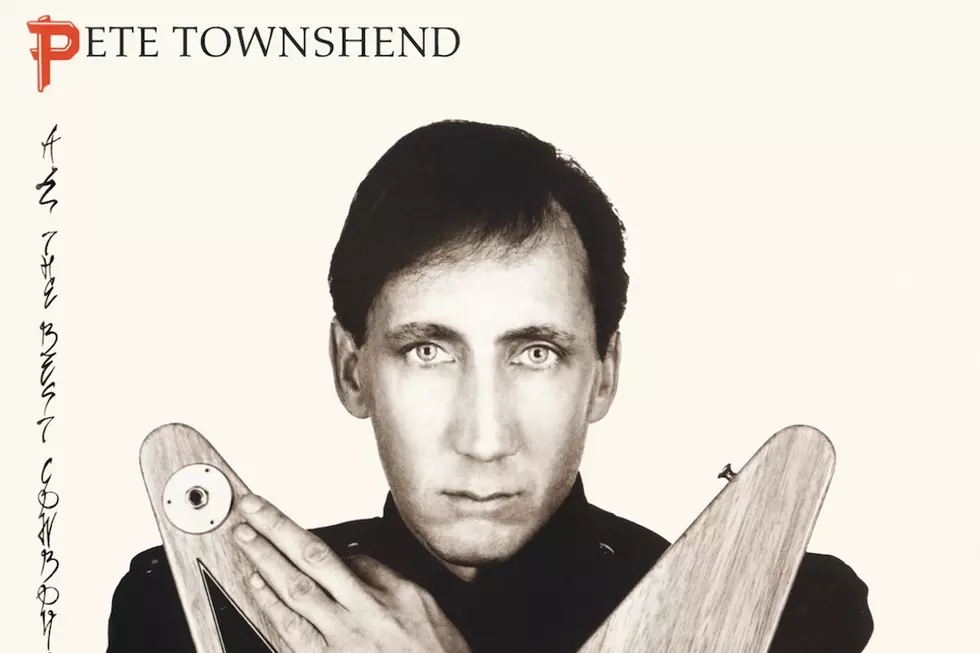 35 Years Ago: Pete Townshend Turns Inward on the Experimental 'All The Best Cowboys Have Chinese Eyes'
Atco
If Pete Townshend's 1980 solo album Empty Glass could have been a lost Who classic, the arty, synthy All the Best Cowboys Have Chinese Eyes was anything but that. Adorned with New Wave-influenced sounds, often thrillingly obtuse and utterly devoid of musical nostalgia, this was a Townshend album for the modern age.
Released on June 14, 1982, All the Best Cowboys Have Chinese Eyes made clear his growing discomfort with his band – and even his own legacy. He basically threw everything overboard – and, early on, the meditative "Somebody Saved Me" made it clear just why. "All I know is I've been making it," Townshend sang, "and there've been times I didn't deserve to."
The Who's most recent album, 1981's Face Dances, had featured some of Townshend's most personal songs, and the mic-swinging Roger Daltrey seemed to have trouble conveying them with the proper nuance. That wasn't the issue in the run-up to All the Best Cowboys Have Chinese Eyes so much as Townshend's disintegrating personal life.
Townshend had left his wife and daughters following the abbreviated tour in support of Face Dances, then descended into a haze of booze and drugs amid London's bustling social scene. "I think the album is fairly cathartic in some ways," Townshend told Rolling Stone in 1982. "The writing ranged over the last two years, which have been very, very peculiar for me, because I've been through a lot of really weird things."
Once he cleaned up, and then reunited with his family, Townshend was finally ready to return to solo work – but he found the feelings of alienation remained. Back then, he memorably described "Faces Dances, Pt. 2" from All the Best Cowboys as "the anthem of the soul in solitary confinement. It's a feeling like feeling in jail. The face that I sing about is my own. I wrote the lyrics while I was looking in a mirror."
That description could have fit most any song on the album, as Townshend looked determinedly inward – then completely released himself from expectations.
"I was keen not to end up with a heavyweight record, to get away from people's preconceptions," Townshend told NME in 1982. "So, it started off very experimental. When I took the first tracks to New York and played them to the record company – you would have paid money to have seen their faces! I mean, they were just watching millions of dollars disappearing in front of them, because my last album sold incredibly well in America. I was determined not to be caught up in the commercial machine. I thought, f--- it, do what I wanna do."
Listen to Pete Townshend Perform 'The Sea Refuses No River'
Townshend instead charted a more introspective path with "Uniforms (Corp d'Esprit)" (which focused on the costumes people use to disguise their true selves), "Communication" (about the human race's deep-seated need to externalize emotions) and "The Sea Refuses No River" (a grace note for those who are lost). Despite a contemporary tilt, none of trracks were musically crafted for heavy rotation on MTV. All the Best Cowboys was ultimately fashioned into a song cycle that was light on familiar autobiographical details ("Stardom in Action"), long on inventive structures and prose ("Exquisitely Bored") and still strikingly confessional.
"This is the first record I've ever made during which I felt there was no hope whatsoever to try to repair my lost love for my wife and family, or to repair the damage I felt I'd unwittingly laid on my friends and my relationship with the other guys in the band, the Who," Townsend said in Who Are You: The Life of Pete Townshend. "And the songs, as a result, are each a reflection of an aspect of what it's like to feel alone, I think, and yet still be yearning for lost emotions and power."
All of these various strands were bound up in the album-closing song. "Slit Skirts" opened in mid thought, in a very writerly way – underscoring the idea that Townshend's craft could evolve from bloody-fingered riffing. Its stark opening stanza then made way for a cresting lyric of emotional heft — something no doubt lost on the adolescents once known for tearing through "Summertime Blues": "Can't pretend that growing older never hurts."
Even the album title itself, with its odd pairing of images, seemed to point to Townshend's growing distrust in basic conventions – and to a newfound focus on taking personal responsibility.
"I just had this image of the average American hero – somebody like a Clint Eastwood or a John Wayne," Townshend told Rolling Stone. "Somebody with eyes like slits, who was basically capable of anything – you know, any kind of murderous act or whatever to get what was required – to get, let's say, his people to safety. And yet, to those people he's saving, he's a great hero, a knight in shining armor – forget the fact that he cut off 50 people's heads to get them home safely."
The Who gathered to release It's Hard that September, then mounted a tour that was billed at the time as their last. By then, Townshend was openly admitting his doubts about the whole enterprise. The Who ended up taking an extended break from recording, even as Townshend dug deeper into self examination.
"I don't interpose 'me' between the listener and something that I want to get across – and I don't really talk about my problems because I think people are interested in my problems," Townshend told NME at the time of the album's release. "I talk about them because they might be archetypal, because they may be general, because they might be things that people can identify with, and that my thinking processes might actually allow people to get a look at themselves."
See Who Drummer Keith Moon's Craziest Antics
Who Albums Ranked