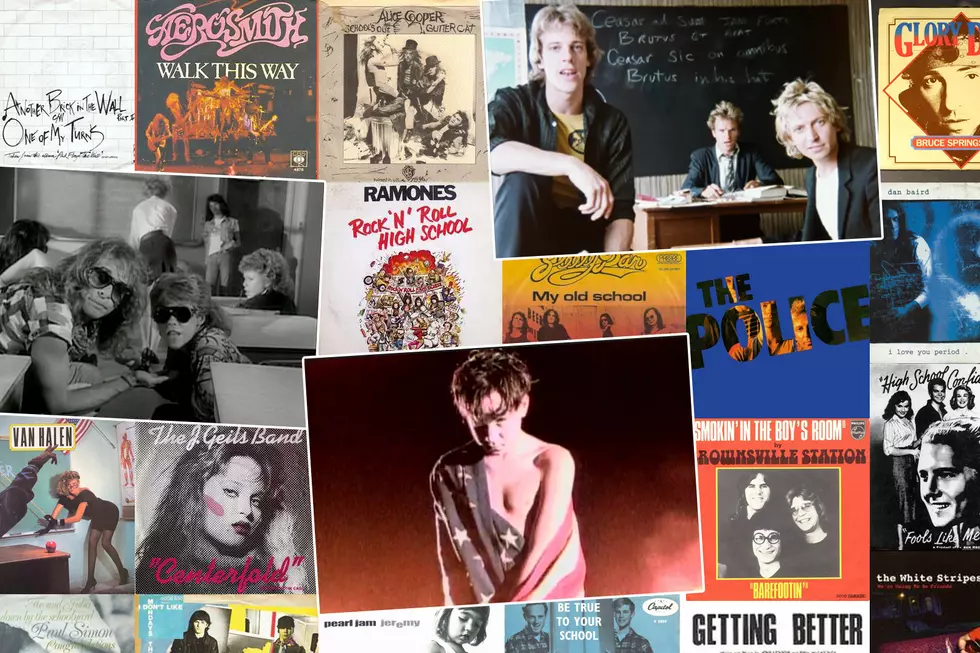 UCR
Summer is just on the horizon. There are pool parties, road trips and beach days awaiting.
But before that, there are the last days of school to get through before the fun begins. If you're a student, you're probably eagerly awaiting the freedom that the end of the school year brings.
That goes for teachers, too; if you're a parent, you might be thinking about your school days ... or maybe dreading the next three months.
Rock 'n' roll and academic education don't always mix. After all, what fun are strict timetables, stern teachers and mountains of homework? But it can be a great foundation for some rough and rowdy songwriting. Below we take a look at the Top 20 School Songs. Class is now in session.
20. J. Geils Band, "Centerfold"
From: Freeze Frame (1981)
After debt threatened to derail the J. Geils Band in the late '70s, they came roaring back at the start of the next decade with "Love Stinks" in 1980. The single scraped the inside of the Top 40 and gave the group a new foundation. "Centerfield" helped keep the good times rolling with Peter Wolf's ode to his onetime "homeroom angel" and the devastation he felt when he later discovered she was the newest pinup in his "girlie magazine." Armed with a lethal keyboard hook from Seth Justman and surrounded by handclaps, "Centerfold" was quickly plastered all over the radio and MTV. The song gave the J. Geils Band their biggest hit, a No. 1 single for six weeks. (Matt Wardlaw)
19. The Boomtown Rats, "I Don't Like Mondays"
From: The Fine Art of Surfacing (1979)
School shootings aren't a new phenomenon. They've even inspired a handful of school songs over the years. The Irish band the Boomtown Rats were touring in the States when news broke that a 16-year-old girl had opened fire at an elementary school in San Diego. Two people were killed, while nine others were injured. Asked why she committed such a heinous act, the shooter responded, "I don't like Mondays. This livens up the day." "It was such a senseless act," Boomtown Rats singer Bob Geldof later recalled to Smash Hits magazine. "It was the perfect senseless act and this was the perfect senseless reason for doing it. So perhaps I wrote the perfect senseless song to illustrate it. It wasn't an attempt to exploit tragedy." "I Don't Like Mondays" went Top 10 in 14 countries, including No. 1 in the U.K., but it stalled at No. 73 in the U.S. (Corey Irwin)
18. Jerry Lee Lewis, "High School Confidential"
From: 1958 Single
Jerry Lee Lewis appears at the beginning of the 1958 movie High School Confidential to sing the title track he wrote especially for the soundtrack. Discerning moviegoers are advised to stop watching this laughably bad Albert Zugsmith-produced weed-scare teen film immediately after the song. Lewis' single became a multichart hit anyway, but only after splicing together two takes recorded following that movie cameo. Lewis then set it aflame a few years later onstage in Germany, as heard on 1964's raucous Live at the Star Club, Hamburg. By then, however, an underage sex scandal had immolated Lewis' career. (Nick DeRiso)
17. Dan Baird, "I Love You Period"
From: Love Songs for the Hearing Impaired (1992)
By the time the Georgia Satellites splintered at the beginning of the '90s, singer and guitarist Dan Baird wanted to take a shot at a solo career, "just to give it a try and see if I could," as he said in 1992. Collaborator Terry Anderson had penned the Satellites' single "Battleship Chains" and brought Baird "I Love You Period," which recalled an early teacher crush. In the song, Baird reveals his affections and, in a twist, the teacher sends back some helpful edits. "I love you period / Do you love me question mark / Please, please exclamation point / I want to hold you in parentheses." While he didn't get the girl in the end, his punctuation and sentence structure were greatly improved. (Wardlaw)
16. Pearl Jam, "Jeremy"
From: Ten (1991)
Two different school incidents inspired Pearl Jam's classic "Jeremy." The first gave the song its title. Jeremy Wade Delle was a 15-year-old from Texas who committed suicide in front of his high school classmates; the second was a personal experience of Eddie Vedder, who survived a school shooting at his junior high school. Such heavy topics seem unlikely to inspire a mainstream hit, but that's exactly what they did. Audiences connected with the track's angst-driven vocals and powerful guitars, and "Jeremy" quickly became one of the defining songs of the grunge revolution. It reached No. 5 on Billboard's Modern Rock chart and earned a pair of Grammy nominations for Best Rock Song and Best Hard Rock Performance. (Irwin)
15. Bruce Springsteen, "Growin' Up"
From: Greetings From Asbury Park, N.J. (1973)
When Bruce Springsteen released his debut album in 1973, he was on the verge of turning 24 but had already done time playing in bars. Springsteen has said he was never comfortable in academic settings; he preferred playing guitar and didn't even attend his high school graduation. Pursuing music was a risk, but by early 1973, it was already starting to pay off. "I swear I lost everything I ever loved or feared / I was the cosmic kid in full costume dress," he sings in "Growin' Up." "But my feet they finally took root in the earth / Well, I got me a nice little place in the stars." (Allison Rapp)
14. Bruce Springsteen, "Glory Days"
From: Born in the U.S.A. (1984)
Springsteen's "Glory Days" is about an older man who reminisces about his school days in a way that implies he both misses them and is glad they're over.  High school can be a lot of fun, with its baseball games and girls, but in the end, a 36-year-old Springsteen surmises, it's not representative of real life and it doesn't prepare you for what lies ahead. "Time slips away and leaves you with nothing, mister," he sings, "but boring stories of glory days." (Rapp)
13. The Beatles, "Getting Better"
From: Sgt. Pepper's Lonely Hearts Club Band (1967)
Paul McCartney was doing what Paul McCartney always does: creating a sun-speckled pop tune on the Alfred E. Knight piano in his music room. Then John Lennon started bitching about the teachers they had in school. It went on this way, as McCartney wrote "getting better all the time" and Lennon responded, "It couldn't get no worse." But then Lennon confused LSD for his uppers in the studio, and a subsequent vocal session had to be stopped. The Beatles' unwitting producer George Martin offered to take Lennon out for some fresh air. They ended up on the roof, where Lennon "looked up at the stars and said, 'Aren't they fantastic?'" Martin said in an Anthology interview. "At the time, they just looked like stars to me." New vocals were recorded two days later, completing the song. (DeRiso)
12. The White Stripes, "We're Going to Be Friends"
From: White Blood Cells (2001)
"We're Going to Be Friends" is often associated with the 2004 teen comedy Napoleon Dynamite, which features the White Stripes' plaintive acoustic track during its opening credits. On the surface, both the song and film are quaint chronicles of back-to-school rituals. But look past their childlike innocence, and they're also testaments to the value of walking through life with somebody you love and trust. Jack White's protagonist doesn't notice the days racing by, but he's content in the knowledge that today, tomorrow and every day after, he'll have his beloved Suzy Lee by his side. (Bryan Rolli)
11. The Police, "Don't Stand So Close to Me"
From: Zenyatta Mondatta (1980)
Students crushing on teachers is a tale as old as time. "Don't Stand So Close to Me" gives the teacher's side of things, chronicling a man who has a romantic affair with his pupil, only to get caught up in the controversy of it all. Sting had been a teacher before becoming one of the planet's most popular artists, but he insisted the song wasn't autobiographical. "I'd done teaching practice at secondary schools and been through the business of having 15-year-old girls fancying me - and me really fancying them! How I kept my hands off them I don't know," Sting noted in the 1981 book L'Historia Bandido. "I never had a relationship with any of my pupils - I wouldn't want to," he later noted to Q, instead suggesting that the song's theme was just smart business. "You have to remember we were blond bombshells at the time, and most of our fans were young girls, so I started role-playing a bit. Let's exploit that." (Irwin)
10. Steely Dan, "My Old School"
From: Countdown to Ecstasy (1973)
Donald Fagen takes an uncharacteristically unsentimental walk down memory lane in "My Old School," loosely recounting a 1969 drug bust at Bard College in which he and future Steely Dan bandmate Walter Becker were arrested. It's a wry, relentlessly peppy number, powered by Jimmie Haskell's four-saxophone arrangement and a typically virtuosic guitar solo by Jeff "Skunk" Baxter. Despite vowing not to return to his old stomping grounds until California tumbles into the sea, Fagen buried the hatchet and returned to Bard in 1985 to receive an honorary Doctor of the Arts degree — proof that success is the best revenge. (Rolli)
9. Chuck Berry, "School Days"
From: 1957 Single
Chuck Berry's "School Days" paints a common picture of rock 'n' roll hungry teens in the late '50s, the ones who found tradition tedious and institutions downright boring. After class, there's no time to lose: "Soon as three o'clock rolls around / You finally lay your burden down." It's straight to the local jukebox for something hip to dance to; no history book or math equation could explain this "body and soul" feeling. "School Days," like Berry's "Roll Over Beethoven," "Johnny B. Goode" and others, helped cement his status as the bard of this new era of music. Hail, hail rock 'n' roll! (Rapp)
8. The Ramones, "Rock 'n' Roll High School"
From: 1979 Single
Probably not so surprisingly, the Ramones weren't really into doing the usual things school is there for, like learning stuff. "I don't care about history," they declare at the opening of their 1979 single, which doubled as the signature song of the movie with the same name. "I just wanna have some kicks / I just wanna get some chicks." A few different versions of the song exist, including one produced by Phil Spector, who worked on the Ramones' 1980 album, End of the Century, where a revised rendition can be found. "I hate the teachers and the principal / Don't wanna be taught to be no fool," they sum up, in perfect Ramones fashion. (Michael Gallucci)
7. Aerosmith, "Walk This Way"
From: Toys in the Attic (1975)
"Younger bands are into jerking off and we're into fucking. That's all there is to it!" Steven Tyler once proclaimed. The elder statesmen of raunch rock proudly display this affinity on "Walk This Way," repurposing a gag from Mel Brooks' Young Frankenstein into instructions for pleasuring a partner. It's best not to overanalyze the lyrics, though; instead, get swept up in Joe Perry and Brad Whitford's blazing fretwork and Joey Kramer and Tom Hamilton's deep-seated funk grooves. Tyler's tongue-twisting lyrics presage the rap-rock explosion that Aerosmith harnessed a decade later on the groundbreaking and career-rejuvenating "Walk This Way" remake featuring ascendant hip-hop stars Run-D.M.C. (Rolli)
6. Paul Simon, "Me and Julio Down by the Schoolyard"
From: Paul Simon (1972)
There's a lot that doesn't make sense in Paul Simon's "Me and Julio Down by the Schoolyard." Who (or what) is "mama pajama"? How did Rosie become the "Queen of Corona"? How does a "radical priest" fit into the storyline? And, most important of all, what in the world did "me and Julio" do to get in such trouble? Simon's lyrics confirm only that "it's against the law." Whatever their crime, they both get summarily hauled away from the schoolyard where they love to hang out until the aforementioned clergyman steps in to secure their release. Turns out, Simon doesn't know what got them locked up either. "I have no idea what it is," he later told Rolling Stone. "Something sexual is what I imagine but when I say 'something,' I never bothered to figure out what it was. Didn't make any difference to me." (DeRiso)
5. Brownsville Station, "Smokin' in the Boys Room"
From: Yeah! (1973)
Brownsville Station guitarist Mike Lutz wasn't one of the guys depicted in the classic song he co-wrote with the band's Cub Koda. "I confess that I personally never got into smoking in the boys' room at school," he admitted in an interview. "But it seemed like a good topic to write about." They had no preconceptions about that song's prospects, even burying it at the end of their 1973 album. But "Smokin' in the Boys Room" sailed to No. 3. The song provided a similar lifeline to Motley Crue in 1985 when it was covered on Theatre of Pain and became the band's first Top 40 hit. (Wardlaw)
4. Van Halen, "Hot for Teacher"
From: 1984 (1984)
School days anthem "Hot for Teacher" was the last single released by Van Halen's original lineup, and both the song and its video found the band at the peak of their powers. Having proven their mastery of traditional pop songcraft with previous 1984 singles "Jump" and "I'll Wait," the band pushed boundaries as far as possible in the other direction with "Hot for Teacher." After a spectacular minute-long Alex and Eddie Van Halen instrumental intro, the spotlight turns to David Lee Roth in class clown mode, professing his lust for his new teacher as Eddie Van Halen alternates between simmering boogie and full-tilt heavy metal. The video paired each member with younger doppelgangers, introducing the world to sweet, sweet Waldo while Van Halen soloed down the longest library table in recorded history. (Matthew Wilkening)
3. The Beach Boys, "Be True to Your School"
From: Little Deuce Coupe (1963)
Brian Wilson's dreamy nostalgia for the Beach Boys' shared youth in Hawthorne, California, combines with Mike Love's Chuck Berry-esque lyrical specificity to produce a snapshot of midcentury life. Then they had to go and screw it all up with a single version that tacked on cheerleader chants. (These were provided by the Honeys, a girl group that featured Wilson's future wife Marilyn.) Stick with the more stripped-down album version, which leverages the Beach Boys' short-lived six-man lineup to create a more delicately conveyed pocket-sized reverie. Fans of the University of Wisconsin probably wondered why their fight song was incorporated into the middle eight, but Hawthorne High's version was based on the same melody. (DeRiso)
2. Pink Floyd, "Another Brick in the Wall, Part 2"
From: The Wall (1979)
Has school ever sounded so hellish as it does in the centerpiece to Pink Floyd's 1979 opus The Wall? "We don't need no education / We don't need no thought control," Roger Waters sings in the song's famous opening lines. As a cornerstone in the rock opera's story of an artist's withdrawal from society, "Another Brick in the Wall, Part 2" traces the character Pink's dysfunction to his earliest days and the teachers who took out their frustrations on schoolchildren. Somehow this protest song ("Hey, teachers, leave them kids alone!") became a worldwide No. 1 hit, the biggest single of Pink Floyd's career and one of the most subversive radio songs ever. (Gallucci)
1. Alice Cooper, "School's Out"
From: School's Out (1972)
The eternal appeal of Alice Cooper's summer anthem can be summed up in the song's second verse: "We got no class / And we got no principals / And we got no intelligence /
We can't even think of a word that rhymes." It's both a middle finger and an apathetic response to the establishment that perfectly encapsulates why "School's Out" remains rock's all-time greatest song about school. Who hasn't counted down the number of days until summer vacation and fantasized about not ever coming back? The song became Alice Cooper's first Top 10 hit and a favorite of anxious kids everywhere as the school year comes to its long end. (Gallucci)
12 Rock Stars Who Used to Be Teachers
These musicians were once responsible for educating the next generation.