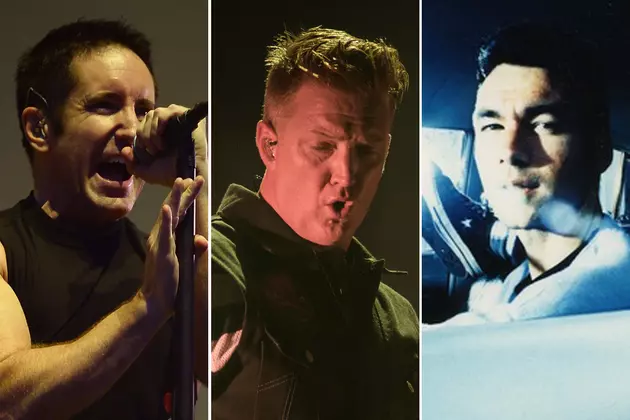 2017 Riot Fest Daily Schedule + Set Times Revealed
Theo Wargo / Raphael Dias, Getty Images / Western Publicity
What a weekend it's going to be! We hope you're in shape, because there might be a fair amount of planning a run from stage to stage after checking out the newly released schedule for the 2017 Riot Fest taking place at Chicago's Douglas Park the weekend of Sept. 15-17.
Organizers have revealed the daily breakdown as well as the set time for each band performing, and as expected there are some interesting overlaps in the schedule that should leave fans with some tough choices to make. On Friday (Sept. 15), you'll have to choose between headliners Nine Inch Nails and A Day to Remember, each starting their sets at 8:30, while an overlap of Nothing More, New Order, Mayday Parade and Vic Mensa provides its own set of challenges.
Saturday (Sept. 16) will find Queens of the Stone Age and Taking Back Sunday butting up against each other, with Wu-Tang Clan and Streetlight Manifesto overlapping into the start of their sets. Meanwhile, Wu-Tang face a challenge earlier in their set from the end of At the Drive In's performance.
And on Sunday (Sept. 17), Prophets of Rage will see competition from GWAR, Paramore, M.I.A. and Andrew W.K. at various points in their performance. But while there are some interesting conflicts, it doesn't appear as though Riot Fest organizers are too concerned, as evidenced by the tweet below.
Check out the full Riot Fest lineup and set times listed below and head here to make your own scheduler. Tickets for the event may be purchased here.
Riot Stage
8:30 - Nine Inch Nails
6:05 - Ministry
3:55 - Buzzcocks
2:15 - Liars
12:35 - Tobacco
Roots Stage
7:10 - New Order
5:00 - Death From Above
3:05 - X
1:25 - Invisn
12:00 - Skating Polly
Radicals Stage
8:30 - A Day to Remember
7:00 - Mayday Parade
5:30 - The Story So Far
4:15 - State Champs
3:00 - Four Year Strong
1:15 - Sleep on It
Rise Stage
7:25 - Vic Mensa
5:45 - Dirty Heads
4:05 - Action Bronson
2:45 - Saul Williams
1:45 - Warm Brew
12:45 - HDBeenDope
Your Name Here Stage
7:30 - Nothing More
6:20 - The Cribs
5:10 - Chon
4:00 - The Hotelier
3:00 - Radar State
2:00 - Seaway
1:00 - Like Pacific
12:00 - Grayscale
Riot Stage
8:45 - Queens of the Stone Age
6:35 - Gogol Bordello
4:25 - Fidlar
2:45 - GBH
1:05 - Peaches
Roots Stage
7:40 - At the Drive In
5:30 - Danzig
3:35 - Dead Cross
1:55 - Black Pistol Fire
12:15 - RVIVR
Radicals Stage
8:00 - Wu-Tang Clan
6:20 - Mike D
4:40 - Bad Brains
3:15 - Shabazz Palaces
1:45 - Fishbone
12:30 - Slaves
Rise Stage
8:45 - Taking Back Sunday
7:00 - New Found Glory
5:30 - The Lawrence Arms
4:00 - Bayside
2:30 - Knuckle Puck
1:15 - Smith Street Band
Your Name Here Stage
8:15 - Streetlight Manifesto
7:00 - Lucky Chops
6:00 - The Regrettes
5:00 - Potty Mouth
4:00 - Gin Rummy
3:00 - Cold Beat
2:00 - La Armada
1:00 - Turnspit
Riot Stage
8:45 - Jawbreaker
6:35 - Dinosaur Jr.
4:25 - Cap'n Jazz
2:15 - That Dog
12:45 - Beach Slang
Roots Stage
7:40 - Prophets of Rage
5:30 - Pennywise
3:20 - Mighty Mighty Bosstones
1:25 - Hot Water Music
12:00 - Engine 88
Radicals Stage
8:15 - Paramore
6:45 - Best Coast
5:30 - Minus the Bear
4:15 - The Menzingers
3:00 - Say Anything
1:45 - Real Friends
12:45 - Kitten Forever
Rise Stage
7:40 - M.I.A.
6:00 - TV on the Radio
4:20 - Built to Spill
3:00 - The Orwells
2:00 - Dessa
1:00 - Downtown Boys
Your Name Here Stage
8:30 - Andrew W.K.
7:15 - GWAR
6:00 - Mad Caddies
5:00 - The Flatliners
4:00 - Versus
3:00 - The Voluptuous Horror of Karen Black
2:00 - Culture Abuse
1:00 - Upset
2017 Guide to Rock + Metal Festivals