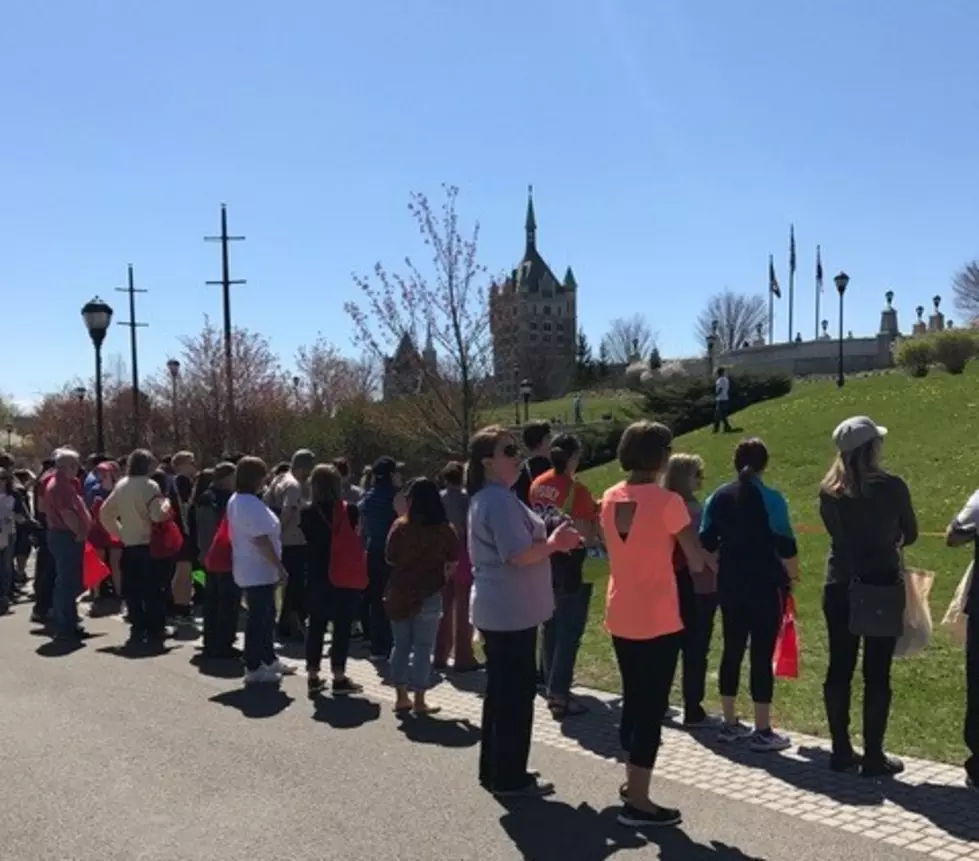 Here is What Happens When You Participate in a "Grown Up Egg Hunt"
Candace
**Hint** A lot of laughs combined with the realization that despite how youthful you think you are, in fact, you are not a kid anymore.
Over this past weekend I decided to switch things up a bit (mostly because I didn't have any shows going on) and instead of going hard all night and sleeping all day I decided I was going to try to get up early and do things that normal people would do during the day on the weekend.
Saturday ended up being super boring. After strolling around the neighborhood trying to find something to do and even polling my Facebook friends I came to the conclusion that unless there was actually something going on during the day I really wasn't missing out on anything besides chores and errands by vegging out all day on a Saturday.
Sunday however, was a different story. The weather on Sunday was absolutely beautiful and I don't think I could have stayed inside even if I wanted to. However, Sunday I had signed up to participate in the Capital Region Grown Up Egg Hunt (an egg hunt just for adults) and I was super pumped to see what it was all about first hand.
I had wanted to participate last year but for some reason or another I couldn't make it so I definitely wasn't missing it this year. Not to mention this year the organizer expanded a bit and made it possible for more people in the Capital Region to participate in different capacities.
This year there were 3 hunts that, for a small donation to benefit a couple of local charities, you could choose to participate in. There was the main hunt at Jennings Landing in Albany that works like any children's egg hunt where essentially they throw a crap ton of plastic candy and prize filled eggs on a big portion of grass, cut the ribbon and yell go, while you run around like a crazy person and try to scoop up as many of the eggs as possible in hopes of winning some of the awesome prizes that were donated by local businesses.
Then there were two leisure hunts in Albany and Troy where you could visit some of the local businesses that donated, at your own pace, and receive and egg in hopes that you would score a prize and there were definitely some good ones this year! Lots of gifts cards and coupons to local businesses and establishments, gift baskets, booze, and even jewelry.
This year I decided to do the traditional egg hunt and let me tell you watching a bunch of grown adults running and grabbing eggs is probably the funniest thing I've seen in a long time! Also, I quickly realized that kids definitely have an advantage on these egg hunts because A.) they are closer to the ground and B.) they are in a lot better shape than I am!
After it was all over (roughly 5 minutes later) we enjoyed some tunes from our friends in Bad Mothers while taking inventory of our loot and we ended up with a decent amount of candy and even took home some pretty stellar prizes!
Since it was such a beautiful day we decided to cash in our prizes and have a couple of beveys on a patio!
In the end it was a GREAT time and I would highly recommend it. I actually think that next year I might attempt the on of the leisure hunts and the main hunt! If you want to learn more about what the Capital Region Grown Up Egg Hunt is all about you can check out their Facebook page or click HERE.