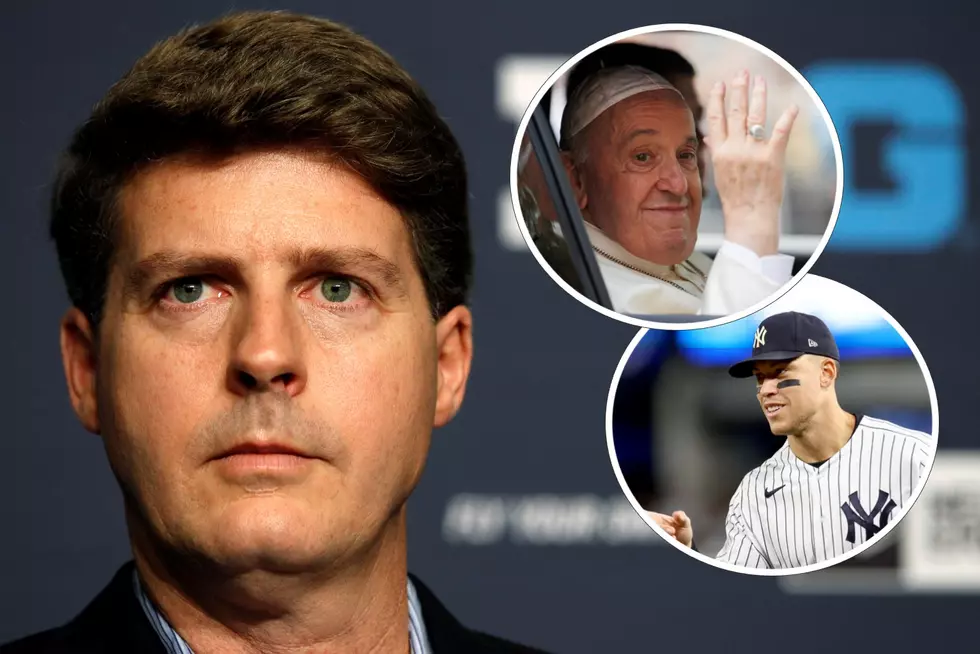 'Holy Hal': Did Divine Intervention Land the New York Yankees Their Superstar?
Getty Images
When New York Yankees' fans saw that Aaron Judge was rumored to be headed to the San Francisco Giants, but wound up returning to The Bronx instead, it may have left a few of them thanking a higher power.
You can debate whether the following story can be attributed to religion, fate, coincidence or none of the above, but in the days prior to the Judge signing, New York Yankees' owner Hal Steinbrenner had quite the visit while on vacation in Italy.
---
New York Yankees' Owner Has 'Divine' Visit Days Before Signing Aaron Judge
A report from Fox News and other outlets detailed New York Yankees' owner Hal Steinbrenner's vacation to Italy, and the incredible visit he had while he was there. YES Network's Jack Curry documented it on his Twitter account:
Indeed, that's a photo of Steinbrenner shaking hands with Pope Francis, head of the Catholic Church, a position he has held since 2013. A visit with the Pope is a massive honor, and after the above photo went viral, it led to some hilarious fan theories based on what happened when Steinbrenner returned.
Let's go through the timeline for Hal Steinbrenner. On December 1, he's photographed shaking hands with the Pope. Then, on December 6, Jon Heyman jumps the gun on a report that Judge had signed with the San Francisco Giants.
The following morning, on December 7, it's (correctly) announced that Judge had signed with the New York Yankees, becoming the third player in MLB history to make at least $40 million per season, as well as the first position player to do so.
Naturally, the more pious patrons of Yankee Stadium were quick to point out that the visit with the Pope may have put Steinbrenner, Judge and the Yankees in the good graces of the Lord. Meanwhile, the secular section of the fanbase cited strong negotiating skills, and the allure of playing in The Bronx, as reasons for Judge's re-signing.
I'm not here to say one side is right, or the other is wrong, but either way, it's a really fun story that ended about as well as it could've for fans of the New York Yankees.
Re-live The Glory Days with This Old Yankee Stadium Virtual Tour
The "Old" Yankee Stadium may be gone, but plenty of photos and videos of the classic ballpark still exist. Re-live its history and lore through this virtual tour.
Ten Trades That Took the NY Yankees from 'Pretenders' to 'Contenders'
A steal, a fleecing, a robbery...whatever you call it, a one-sided trade can completely change the future of your team. These trades did that for the NY Yankees.