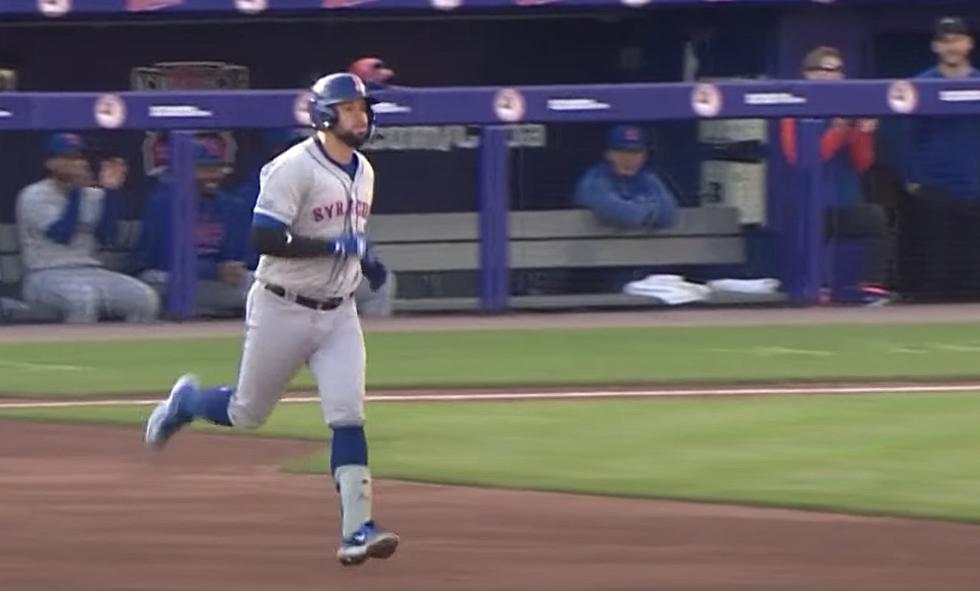 Kraken Poised To Invade New York…Again
SNY-TV YouTube.com
The New York Mets have been struggling for offensive power, why wouldn't they add a proven Major League hitter with over 150 homer runs in the last 8 years, especially a catcher? Well, Mets' general manager Billy Eppler may want to consult his crosstown friend, Yankees' general manager Brian Cashman on this one.
The Mets signed former Bronx Bomber Gary Sanchez on May 9th a minor league contract. Sanchez was assigned to Triple-A Syracuse. Sanchez has hit well over his first 8 games and as of Friday, must be either put on the Major League roster or given his outright release.
It looks like the Mets have made their decision. According to Anthony Rieber of newsday.com, Sanchez will be called up on Friday. Over 8 games in Syracuse, Sanchez has hit .308 with 1 home run and 5 RBI. Though, those are decent numbers. Is the addition of Sanchez the best thing for Buck Showalter and the New York Mets right now?
Gary Sanchez was one of the most frustrating players of Brian Cashman's tenure as general manager. Sanchez was eventually dumped by the Yankees in a trade with the Minnesota Twins last season, who eventually gave the less-than-stellar defensive catcher his ultimate release back in December. The 2-time All Star has consistently tantalized organizations with his powerful bat. However, Sanchez's lack of skills behind the plate, mixed with frustrating effort levels at times and a sub .205 batting averages over the last 3 seasons, find him scrambling for a MLB roster spot in 2023. The San Francisco Giants had signed Sanchez prior to the Mets. They released him on May 2nd. Now the 30-year old catcher is returning to the Big Apple.
The New York Mets rookie catcher Francisco Alvarez cannot be fond of this move. The young power hitter is coming off of his biggest moment in a Mets uniform and Eppler decides to bring Sanchez into the mix two days later. Does the move make the Mets better? It could. It is certainly a lightning-in-a-bottle type move for the Mets GM. Buck needs more power in the lineup. If Sanchez can be halfway-decent behind the plate, 1 or 2 games a week, the Mets would be thrilled. If he pushes the young Alvarez to be better, that's not such a bad thing either. However...
Now, what are the chances of all of this working out for Sanchez? Pretty close to none but there is a chance. Free agent catcher Omar Narvaez, who signed last winter, is set to return from the Injured List. He and Mets long-standing back-up Tomas Nido are expected to begin minor-league-rehab starts in the next 10 days. So, if Sanchez wants to stick around, the Kraken, as nicknamed by Cashman, had better get off to a red-hot start for Showalter and the Mets. Eppler does have the option of sending their star-prospect Alvarez back to Syracuse. What would that do for the young player's confidence? Mets fans will have to wait and find out.
SPAC Confirmed: These Artists Will Play Saratoga In 2023
25 dates have been confirmed and are either on sale or about to go on sale for the 2023 season at Saratoga Performing Arts Center. Here is your complete guide.
For Sale: Tour The Riggi's Rustic Yet Sophisticated $31 Million Lake Placid Camp
This could quite possibly be the most beautiful Adirondack camp you have ever seen!
The Saratoga Springs socialites listed their stunning Lake Placid compound for $31 Million. According to the
Zillow listing
, this amazing spread sits on over 46 pristine Adirondack acres and features 9 bedrooms, 10 bathrooms. There is 8,500 square feet of delightful living space across a variety of 5 buildings including the main home, a tree house, 2 guest residences, and a sweet Airstream trailer decked out as a "she shed." This camp is private and gated, and only minutes from Lake Placid Village. You can even see the Lake Placid Olympic ski jump from the property!
Rent Taylor Swift's Former New York Home
Rent the West Village townhouse that superstar Taylor Swift once called home and was the inspiration for the songs 'Cornelia Street' and 'King of My Heart'. Currently listed by Jennifer Rahilly for
Corcoran
.