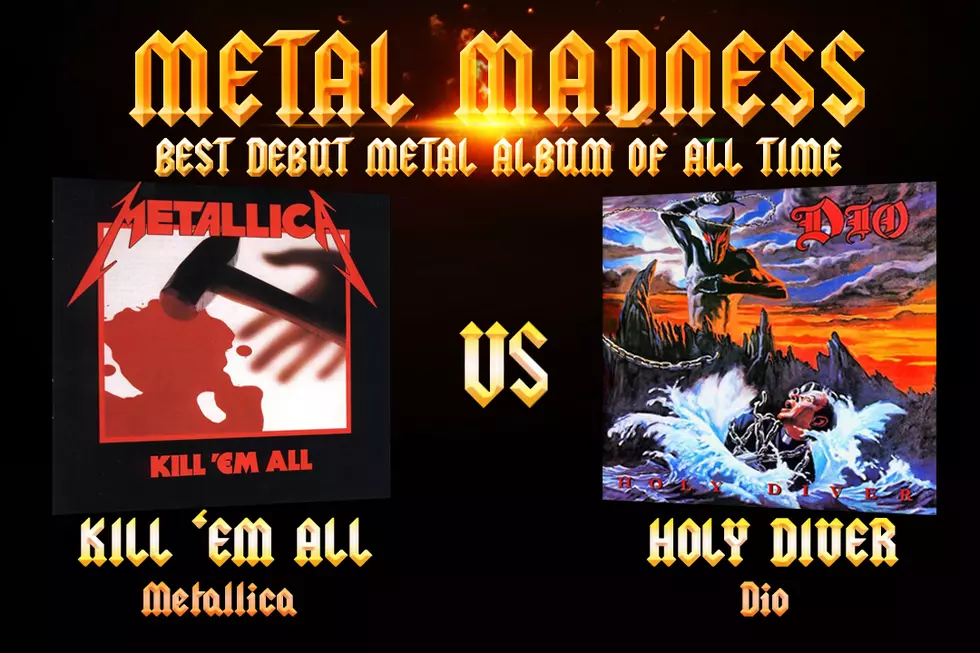 Metallica vs. Dio – Metal Madness 2017, Quarterfinals
Megaforce / Warner
How's this Stage Dive Region matchup for you?! Both Metallica's Kill 'Em All and Dio's Holy Diver were released in 1983 and here they are duking it out in the Quarterfinals  of Metal Madness hoping to be named the Best Debut Metal Album of All Time!
Metallica have been nothing short of murderous in this tournament. Staying true to the title of the album, they've notched their second consecutive victory taking 85 percent of the votes in both rounds, first against Exodus' Bonded by Blood and then against Testament's The Legacy in Round 2.
It was a battle of Black Sabbath singers in Round 2 as Holy Diver went head-to-head with Ozzy Osbourne's Blizzard of Ozz. The classic album from Ronnie James Dio was victorious by another wide margin, this time amassing 61 percent of the votes on top of nearly 70 percent against Motorhead's self-titled album in Round 1.
So which album will move on to the Semifinals of Metal Madness 2017? Vote below for either Metallica's Kill 'Em All or Dio's Holy Diver as the Best Debut Metal Album of all time in the poll below!
(This poll will end on Monday, March 27, at 10AM ET. Fans are able to vote once per hour, so keep coming back to make sure your favorite debut album wins!)