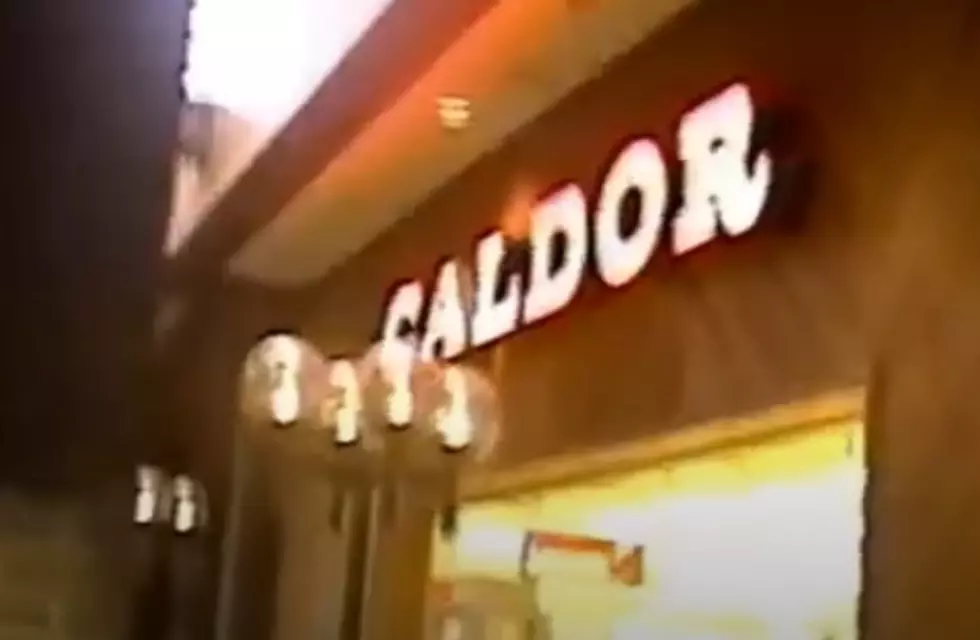 Remember Caldor? We Found Video from this Capital Region Store!
Dead Malls/YouTube
Talk about a throwback. Caldor was a department store in the northeast that once touted close to 150 stores. It was founded in the Westchester County town of Port Chester in 1951 and and quickly grew into the Hudson Valley, the Capital Region, parts of Connecticut and as far south as Washington DC.
Much like a typical department store at the time, it had everything. Clothes, electronics, hardware, home goods, toys, music, gardening supplies, outdoor recreation stuff - you name it. Growing up in Clifton Park, the Caldor at Clifton Country Mall was my family's go-to in the 90's.
As is the story with a number of department stores in the 90's, sales began to decline as brands like Target and Walmart were picking up steam. Caldor officially shut down in 1999.
Other department stores quickly moved in and took over the old Caldor real estate. For example, when Caldor closed its Clifton Park location, the building was knocked down and a new Boscov's was built.
Back in 1997, Brian Florence of Glens Falls was working at the Caldor location in Aviation Mall. One day, he brought his video camera into the store and gave us a tour of a few of the different departments. Point of reference, this Caldor became a BonTon and is now an Ollie's Bargain Outlet.
It should also be noted that Brian is the creator of the widely popular website deadmalls.com, where now defunct shopping centers are remembered.
If you ever shopped at Caldor, the following pics should look familiar. Although forgive the quality, there's only so much you can do with VHS images from 1997.
Inside a Capital Region Caldor Department Store in 1997
This is from video taken at the Caldor location that was at Aviation Mall in Queensbury. Obviously taken with VHS video. Check out some of the hot items for sale, including the latest CD's from the Foo Fighters, Wallflowers, and Hanson.
A Look Inside Abandoned Ames Department Store in NY
Ames Department stores were once prevalent throughout the United States, including here in the Capital Region and other parts of New York. At one time, there were about 700 stores nationwide.
I remember buying my first DVD player at the store in Latham when it was having its going out of business sale in the early 2000's. That location is now a Hobby Lobby.
In 2002, there were between 300 and 400 stores. The company was declining in sales and shut down operations permanently.
This former store is located in Horseheads, NY, in the state's Southern Tier between Elmira and the Finger Lakes. What makes it unique is the fact that sign and external design of the store still remain. In fact, the power still works in the building - as these urban explorers found out when they were making their way through the building.
Inside the store, not much retail history remains, though there are some colorful counters and maybe the remains of some signs on the floor. It also appears some squatters may have been calling it home at some point.
As expected, floor tiles are deteriorating, ceiling tiles are non-existent, there's garbage and debris, but neatly piled into different areas, so somebody is keeping an eye on it. Graffiti is seen in different parts of the former store as well.
It looks like some work may have been done on the facility in the past as it looks 'relatively' clean for a store that's been abandoned for around twenty years.
WARNING: Under no circumstances should you enter this property. By doing so you risk bodily harm and/or prosecution for trespassing on private property.
A Final Look Inside Mohawk Mall in Schenectady
Once a thriving shopping destination in the Niskayuna/Schenectady/Colonie area, Mohawk Mall opened in 1970 and lasted just about until the millennium.