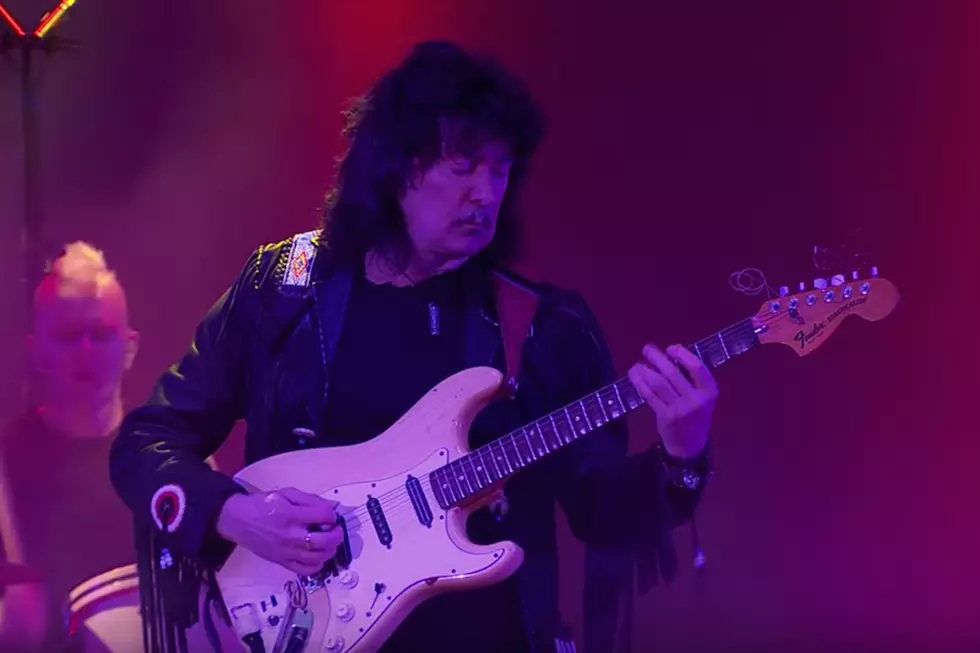 Ritchie Blackmore Has New Rainbow Material Written
YouTube: RainbowVEVO
Over the years, Ritchie Blackmore had maintained a hard-nosed stance against ever playing rock music again, instead opting to keep his focus on the Renaissance project Blackmore's Night. Last year, he reactivated Rainbow with an overhauled lineup and performed a series of select festival gigs. It appears he can't stop scratching that rock itch because he's now written new Rainbow material as well!
In the May issue of Burrn! magazine, Blackmore said (via The Highway Star), "I wrote one new [Rainbow] song and also recorded one of the old ones. Ronnie [Romero, vocals], who is in Madrid now, added his vocals and sent it back. Rather than make an album, we may release as singles."
Elaborating on why he chose Romero, who also fronts Lords of Black, as the band's new singer, the guitarist explained, "When I heard him, he seemed like the right guy to sing the Dio era songs of Rainbow. He is versatile, he can sing like Freddie Mercury or Ronnie James Dio or Graham Bonnet. The reason I did not ask Joe Lynn Turner is because I thought European fans wanted to hear the Dio lineup of Rainbow. I was very surprised that tickets sold out in 15 minutes. It was nice to know so many people wanted to hear Rainbow at this time."
The lineup that performed last year's Rainbow shows consisted of Blackmore, Romero, Jens Johansson (keyboards), Bob Nouveau (bass) and David Keith (drums). Rainbow chronicled two of the festival performances with the Memories in Rock - Live in Germany concert DVD last year and will follow it up with Live in Birmingham 2016 on June via Eagle Rock Entertainment.
See Rainbow in the Top 70 Hard Rock + Metal Albums of the 1970s
Where Does Ritchie Blackmore Rank Among the 10 Greatest Neoclassical Guitarists