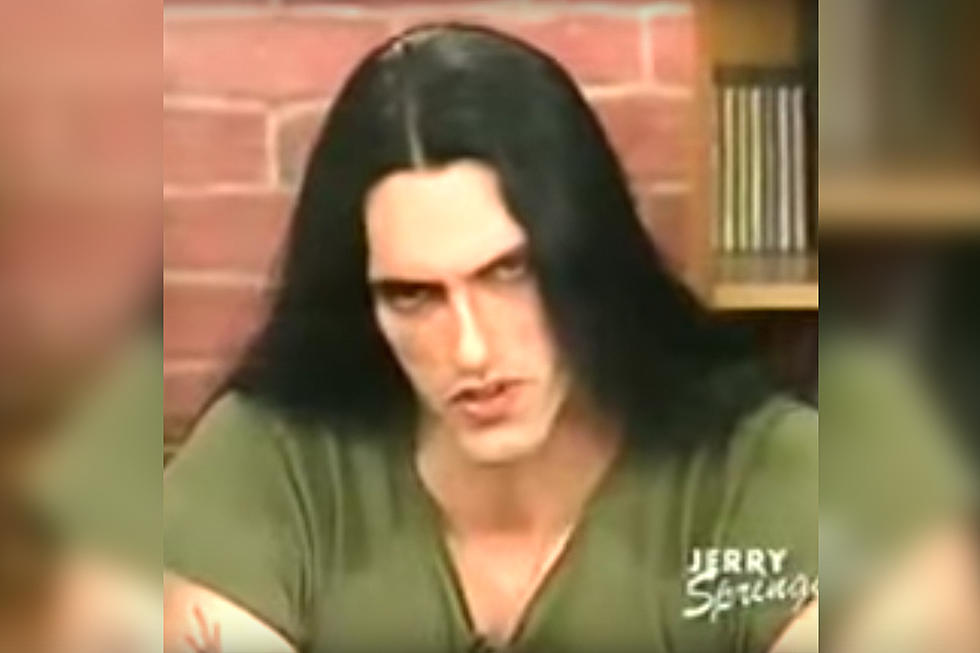 That Time Type O Negative's Peter Steele Was on 'Jerry Springer'
YouTube: Nikolas Kolenich / 'The Jerry Springer Show'
Since 1991, politician turned television host Jerry Springer has been exploiting dysfunction in all its forms on The Jerry Springer Show. While the program typically centers around the dramatic personal lives of unknown people, it occasionally saw celebrity guests on set, like when Type O Negative's Peter Steele was featured in an episode about groupies.
At the time of the show's taping, Steele was an up-and-coming male sex symbol in the heavy music world, having posed for Playgirl magazine for the then-upcoming August 1995 issue. His musical stock rose dramatically during this time as well as Type O Negative were two years removed from the breakout success of 1993's groundbreaking gothic metal record Bloody Kisses.
Springer asks Steele if he is regularly faced with women "throwing themselves" at him and the hulking frontman noted that not only women approach him, but men as well. "Well, it's odd to me because this is my job," said Steele about the groupie experience. "I'm not here to have a good time, I'm here to pay my phone bill and pay the rent," he went on, adding, "If they want to throw themselves at me, well, that's their business."
Steele declined to answer if he does have sex with the women who approach him at concerts and later admitted, "I know her," when pressed if he knew any of the women present on set on the panel, pointing to the woman on his immediate right.
"My mother is going to be watching this, so I have to watch what I say," Steele joked. Detailing the "wildest" thing that's happened to him, he recalled, "Speaking of my mother, I had a young lady come to my house on Christmas Eve, dressed in nothing but red high heels and a Santa Claus cap, stark naked outside my house. I was not home," Steele said, capping the story off with his signature wit, "She asked for me and my mother said, 'Well, Peter's not home and you're gonna catch pneumonia.'"
He later cautioned that these encounters shouldn't lead to relationships "because if she'll throw herself at me, she'll throw herself at anybody." An audience member also posited the question of if there's ever concern that the groupie is staging the encounter to later lay false allegations in hopes of financial gain. "I have a $13,000 tax bill — I have a lot more to worry about than someone setting me up. I don't base my life upon fear, about what might happen tomorrow — I live for the day, I seize the day," Steele affirmed.
See Type O Negative in the Top 90 Hard Rock + Metal Albums of the 1990s
10 Unforgettable Peter Steele Moments