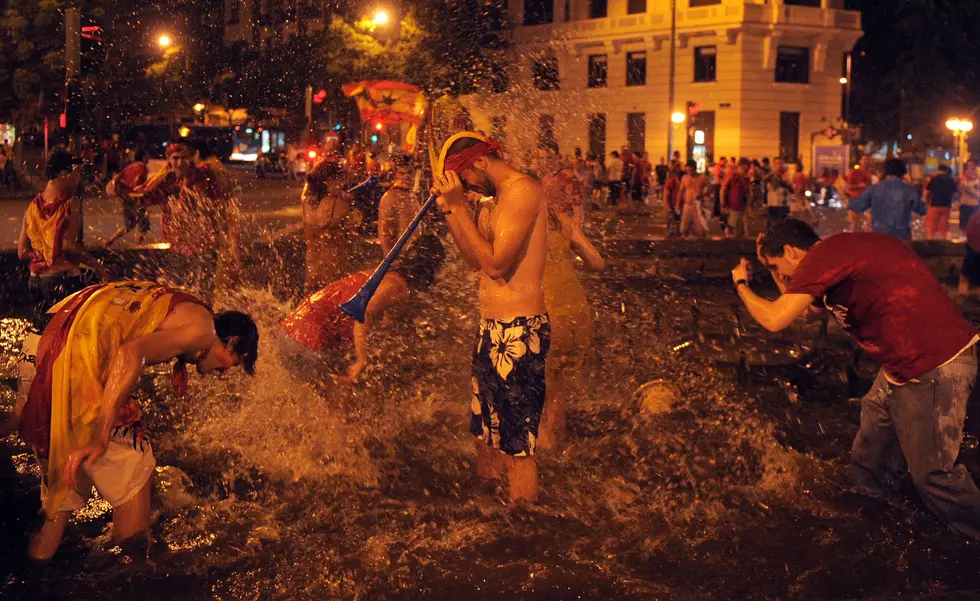 UAlbany Cancels 2011 Fountain Day
Photo by Getty Images
Due to the St. Patrick's Day Kegs N' Eggs incident with several UAlbany students the University President has decided to suspend the annual Spring time celebration.
It's not the first time that SUNY Albany students have ruined a good thing.  Thanks to them you can bet that next years St. Patrick's Day parade in downtown Albany will not be as fun for anyone.  Since a few idiots decided to destroy a car in the Pine Hills neighborhood of Albany on Parade Day the school has decided to cancel Fountain Day. Now UAlbany had already begun to crack down on Fountain Day celebrations by eliminating outdoor drinking and strictly enforcing it.
The cancellation is no surprise as the University tries to do damage control since more than 40 students are now in serious trouble with the law after their Kegs N' Eggs riot.  The incident cost the city an estimated $12,000 to clean up.  In a letter to the students, University President George M. Phillip said:
This is a regrettable choice, but the right decision. There is much at stake here: your education, your future success, and the success of the University at Albany. We must stand together in our resolve to forge the future we envision together
UAlbany students have always been troublesome in the area.  Remember the Denny's on Western Ave in Guilderland?  That was closed because too many SUNY students were going in there drunk and causing problems.  A few years ago SUNY Albany was voted one of the top party schools in the country which quickly prompted school officials to start making changes.  UAlbany is also making more change to avoid possible problems in the future.  They are moving their Winter break for the 2011-2012 academic year from February to mid March, that break will include the St. Patrick's Day holiday.