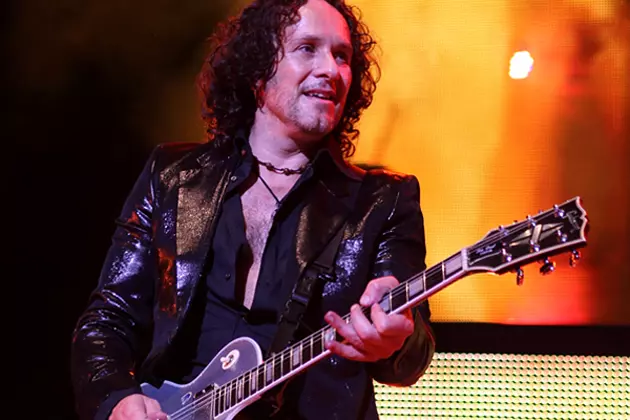 Vivian Campbell Calls $2,000 Spent for Wig He Doesn't Wear a Cancer Life Lesson
Mary Ouellette, SheWillShootYou.com
Def Leppard and Last in Line guitarist Vivian Campbell has openly discussed the status of his battle with cancer over the last few years, but there was a period upon learning his initial diagnosis where he wasn't sure he wanted people to know. In a new interview with Music Life Magazine, Campbell goes into detail about some of the emotions that went through his head as he tried to come to terms with his diagnosis.
The guitarist, who also played in Dio, says one of his initial concerns was his physical appearance and knowing that he would lose his hair as a result of chemotherapy. "I actually ordered a wig because my first thought was I don't want people to know I have this and I am going to do chemo and my hair is going to fall out. There's no way I can go onstage bald. I was afraid, you know, so I spent $2,000 having a custom wig made and I wore it for 10 minutes and have never worn it since. It's in my closet somewhere, and it's pretty creepy looking," revealed Campbell with a chuckle.
He went on to add, "Aside from the fact that it was physically uncomfortable, more significantly it was mentally uncomfortable. I started wondering when do I take it off. Do I take it off in the airport, in the hotel? Where do I become the real me? And that realization took 10 minutes and I realized the real me is not going to wear this wig. I am just going to go public with my diagnosis."
The guitarist says he's glad he came to the decision to lose the wig, adding, "It was so cathartic for me and it turns out for a lot of other people too, to be able to talk openly about cancer. I couldn't imagine having to go through all that I did wearing a wig and trying to hide and pretend that I wasn't sick. It seemed so disingenuous. And if you think about it, if you're denying it on a physical appearance level, you are denying it on some other levels too, and that can't be good for your recovery." Campbell says it's just one of the life lessons he's learned from dealing with cancer is to be comfortable with who you are.
"It's an ongoing thing now. When you first get diagnosed, you freak out and start thinking the worst. But now it's part of my routine. It's like going to the doctor or the dentist. It's just something I do, it's maintenance, essentially," says Campbell, who concludes, "I have done chemo three times and had a stem cell transplant and the cancer keeps coming back. So that's the bad news; the good news is that I was diagnosed fairly early, so I am one step ahead of it – I always have been and I will continue to be. And I refuse to capitulate to this disease and alter my lifestyle in any way at all or allow it to affect my happiness. When I think of Lemmy [Kilmister] and Jimmy [Bain], and all the other people who didn't even know, I cannot complain about the position I am in."
As stated, Campbell has managed his cancer treatment and is expected to be with Def Leppard when they hit the road this summer. Click the red button below to see their tour dates.
See Where Vivian Campbell Ranks Among the Top 50 Hard Rock + Metal Guitarists of All Time