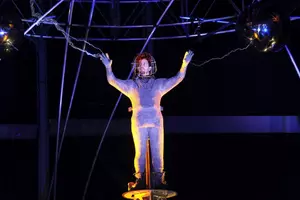 Win Tickets This Week to see David Blaine in Albany!
Credit: Craig Barrett/ Getty Images
Need a break from the work week?  How about getting your work place crashed- this week, by me- with tickets for YOU!  Celebrity magician David Blaine is coming to the Palace Theatre on June 26th, and you've got a shot to go!  David Blaine has been on national television and risen to the top of the magic world with tricks involving catching a bullet in his mouth, and electrifying forces.  Also considered an endurance artist, David Blaine has also done crazy stunts such as being buried alive in a water tank for 7 days in New York City- a stunt that was covered by national media.  From being shackled to a gyroscope to suspended in air, David Blaine is a one of a kind performer, and an act you don't want to miss out on.
All you need to do to enter is head to our online nomination here for the Q103 Work Day Distraction!  This week, I could be crashing your work day with David Blaine tickets in hand!