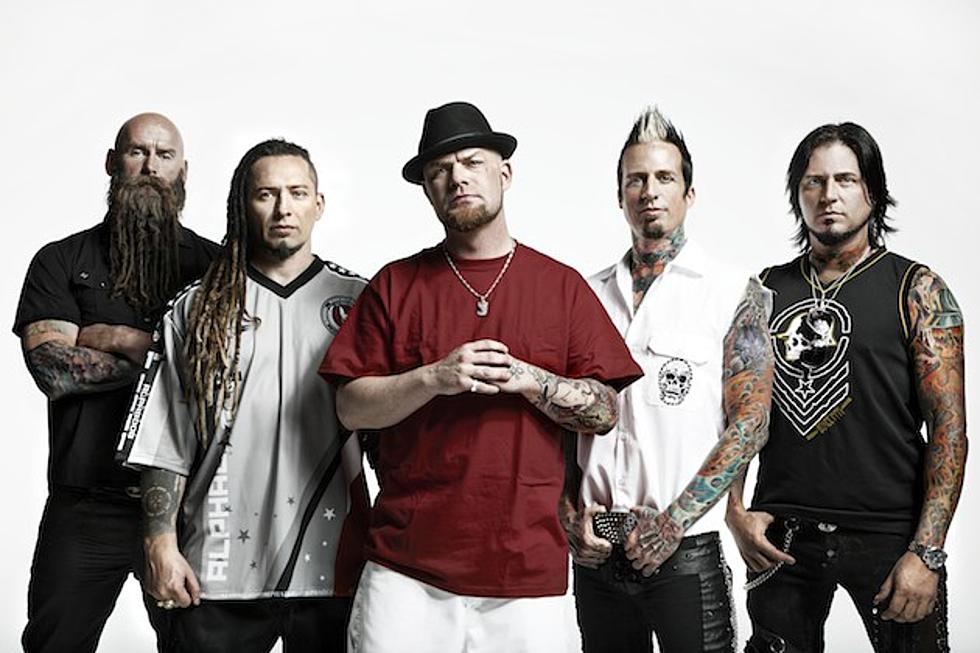 Five Finger Death Punch Talk Mayhem, New Album, Covers, + More [Audio]
SKH Music
Mayhem Fest invaded SPAC on Saturday, July 20th with Rob Zombie, Five Finger Death Punch, Mastodon, and more. Backstage after our broadcast had wrapped up, I was able to sit down with Jeremy Spencer, Jason Hook, and Chris Kael. 
Coming off several hot days with Heat Advisory Warnings in the Albany area, Mayhem Fest day was actually a little bit cooler compared to previous days in the week - which many fans rejoiced in the fact of less than 100 degree temperatures.
This has to be one of the hottest tours, temperature-wise, you guys have done.
Jason: Oh yeah, it's been brutal. I mean yesterday we were like literally "I'm not even going outside."
Jeremy: It's pretty tough.
Two Albums from you this year, The Wrong Side Of Heaven & The Righteous Side Of Hell Volumes 1 & 2. Was that the plan going in to the studio?
Jeremy: We came off the road focused, ready to hit the studio. We started cranking out some stuff, it was really flowing. We got up to 24, 25 songs and were like "Which songs do we take off the record?" - We don't want to take any of them off.
Great list of special guest including Rob Halford (featured on the lead single "Life Me Up" and Tech 9. How did Tech 9 become apart of the record?
Jeremy: He's one of our favorite rappers. To me his delivery, he rules. Zoltan had the riff for "Mama Said" for a few years and he actually suggested it. We were like "lets get Tech 9" and he agreed. I can't wait for people to hear it.
Yes, you read that correctly - Five Finger Death Punch with Tech 9 doing a cover of "Mama Said Knock You Out".
Jason: It's just weird enough that it turned out to be a very cool track. I remember when we were doing the "War Is The Answer" record, people were like "let me get this straight - You guys are a heavy metal band and you're releasing Bad Company." You have to take chances. This is one of those songs where we worked it all out and to me it's just awesome.
Chris talks about his experience with their "show runner" on Saturday while Jason was shopping at a sporting good store. We also touch on a possible cover of the The Divinyls "I Touch Myself" in which Jeremy auditions for.
Check out the full interview below and pick up Volume One of The Wrong Side Of Heaven & The Righteous Side Of Hell on July 31st.