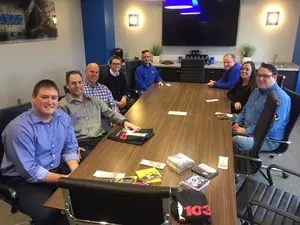 Lansing Engineering Gets Crashed!
Credit: Tatiana
For the last time in 2017, I got to crash a work day!  Today, it was Lansing Engineering in Malta!  I got the opportunity to crash and talk to Paul and his coworkers, who enjoy a wide range of music, and totally rock!  They are a smiling, hard-working, and welcoming crew in the engineering field, and I was so psyched to get to crash their work day!
It's been a great year of Work Day Distractions, and I've crashed job sites from hospitals to warehouses. If there's one thing the Capital Region should be known for, it's for how hard all of you work.  After 2018 strikes, the Work Day Distraction will be back in action, and I'll be back in action with  more goodies from tickets to T-shirts to give out.  Until then, Happy Holidays!