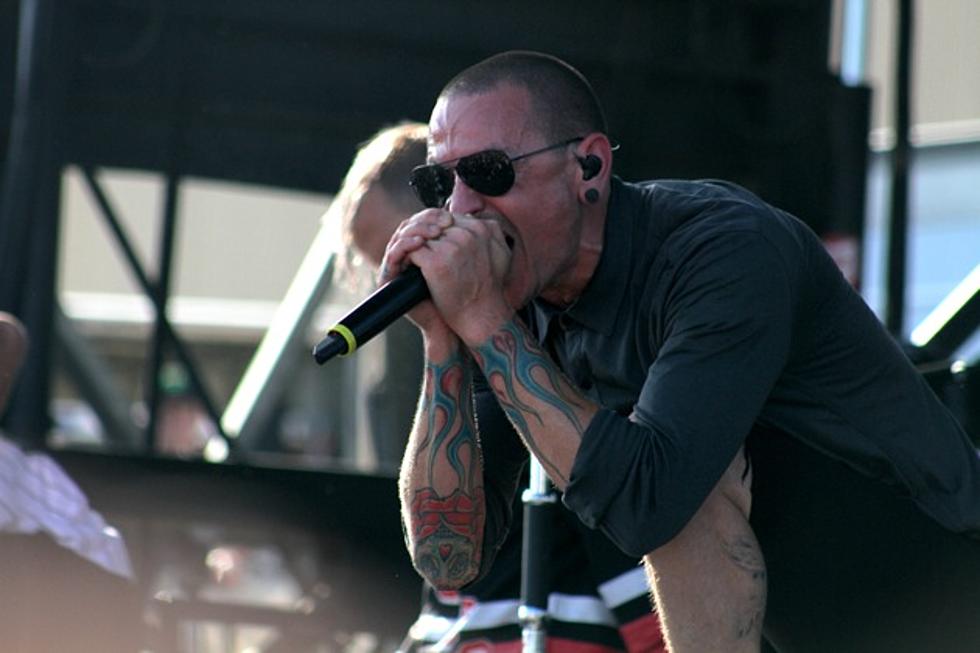 Linkin Park Play Surprise Vans Warped Tour Set With Special Guests
Charles Epting Rock Photography
Fans at Sunday's (June 22) Warped Tour stop in Ventura, Calif., were treated to an extremely special surprise when it was announced in the morning that none other than Linkin Park would be performing to celebrate the festival's 20th anniversary. The band is hot off the release of their new album 'The Hunting Party,' which arrived last week.
A special stage was constructed between the two main stages, solely for Linkin Park's late-afternoon set. As soon as the gates opened, fans were lining the barricade, choosing to forego the dozens of other bands playing and wait over six hours for a front row spot. As the set time approached, it became increasingly difficult to even get within sight of the stage -- undoubtedly one of the biggest crowds in Warped history.
At 5:25 sharp, Linkin Park stormed the stage. What made the ensuing set so unforgettable though were the special guests they brought out for each song. According to several of the artists, Linkin Park themselves hand-picked the singers they wanted to invite out for each song, including A Day To Remember's Jeremy McKinnon, Finch's Nate Barcalow and Yellowcard's Ryan Key.
Loudwire caught up with The Devil Wears Prada's Mike Hranica just minutes after taking the stage for Linkin Park's recent single, 'Guilty All the Same.' Regarding the once-in-a-lifetime experience, Hranica said, "It was awesome. Our manager hit me up a couple of weeks ago and then [Mike] Shinoda started emailing me and when I met the band today they all seemed to be the most wonderful gentlemen. Growing up, I wasn't as big a fan as our guitar player Chris [Rubey] -- they were his favorite band -- but I definitely had 'Hybrid Theory' and I knew it front-to-back. As soon as I was offstage, I texted my dad and said, 'Remember that band Linkin Park?' He wrote back, 'Yeah,' and I said, 'Well I just sang on stage with them!' All he wrote back was, 'Cool.' But for me, it was a truly unforgettable experience."
Will there be more surprises for fans as the 20th anniversary edition of Warped Tour continues to work its way across the United States? We'll just have to wait and see. Stay tuned for our full coverage of the Warped Tour show coming very soon. In the meantime, check out video and exclusive photos of Linkin Park's set below.
Linkin Park's Warped Tour Setlist:
1. 'One Step Closer' (featuring Nate Barcalow of Finch)
2. 'New Divide' (featuring David Schmitt of Breathe Carolina)
3. 'Guilty All the Same' (featuring Mike Hranica and Jeremy DePoyster of The Devil Wears Prada)
4. 'Faint' (featuring Tyler Carter and Michael Bohn of Issues)
5. 'What I've Done' (featuring Ryan Key of Yellowcard)
6. 'A Place For My Head' (featuring Jeremy McKinnon of A Day to Remember)
7. 'Bleed It Out' (featuring Machine Gun Kelly)
Watch Linkin Park Performing 'One Step Closer' With Finch:
See Our Photos of Linkin Park's Warped Tour Set