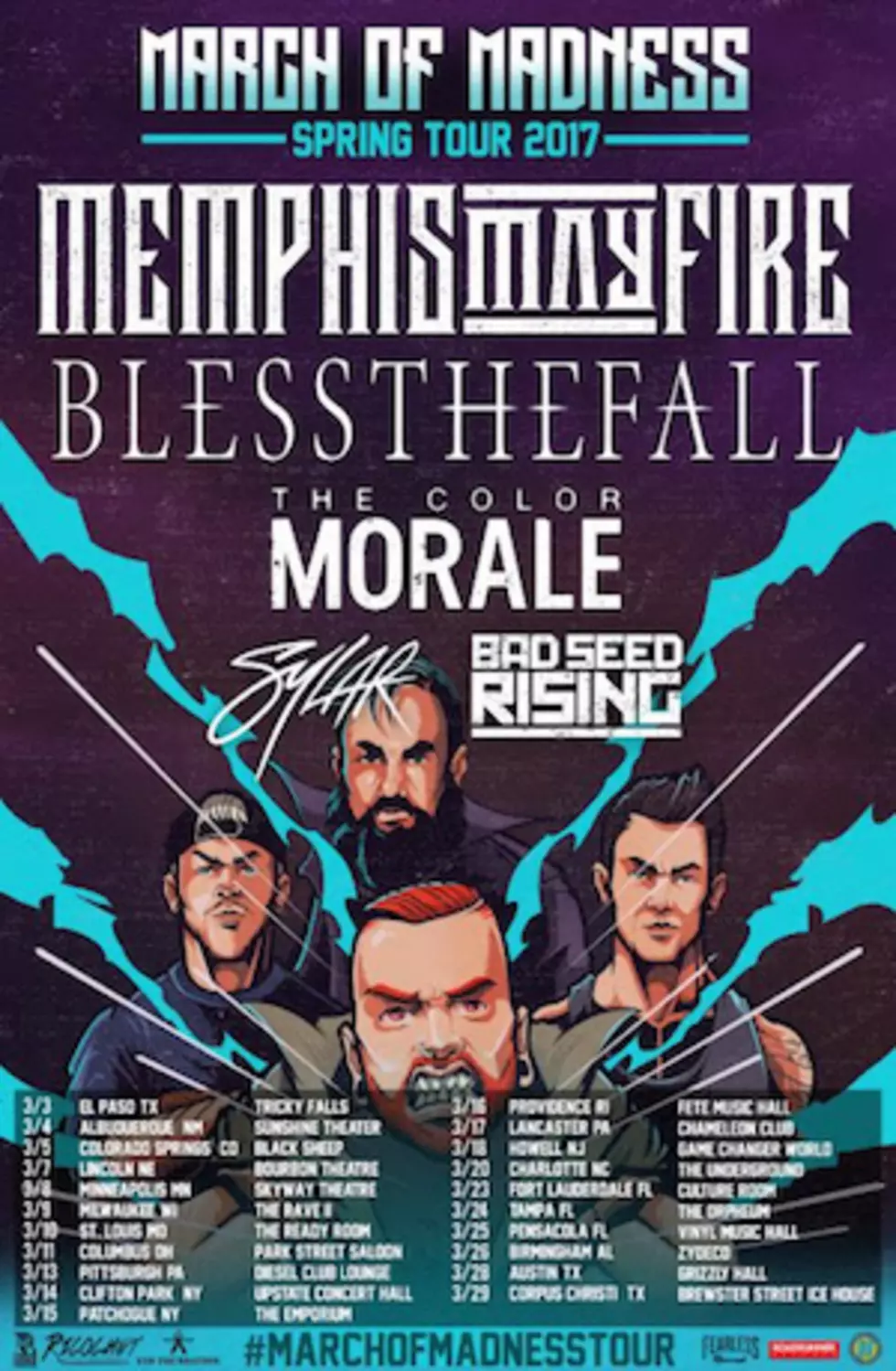 Memphis May Fire Announce 'March of Madness' Tour With Blessthefall, The Color Morale + More
March of Madness Tour 2017
The trek gets underway March 3 in El Paso, Texas, with the tour heading north and crossing over to the Midwest, following the path up through the Northeast and eventually down the coastline into Florida before finishing up back in Austin, Texas on March 28.
Memphis May Fire are touring in support of their latest album, This Light I Hold, but when they hit the road they will be without guitarist Anthony Sepe, who recently stepped down from the band. Since Memphis May Fire announced the guitarist's exit, Sepe has issued his own statement that can be seen here. His replacement has yet to be named. Meanwhile, Blessthefall are touring in support of the To Those Left Behind album and The Color Morale are supporting the Desolate Divine disc.
Tickets for the run go on sale this Friday (Feb. 3) at 10AM local time. There are also several VIP packages that will raise funds for the LTD Foundation. Check here for more ticketing info.
Memphis May Fire / Blessthefall / The Color Morale / Sylar / Bad Seed Rising Tour Dates
3/3 — El Paso, Texas — Tricky Falls
3/4 — Albuquerque, N.M. — Sunshine Theater
3/5 — Colorado Springs, Colo. — Black Sheep
3/7 — Lincoln, Neb. — Bourbon Theatre
3/8 — Minneapolis, Minn. — Skyway Theatre
3/9 — Milwaukee, Wis. — The Rave II
3/10 — St. Louis, Mo. — The Ready Room
3/11 — Columbus, Ohio — Park Street Saloon
3/13 — Pittsburgh, Pa. — Diesel Club Lounge
3/14 — Clifton Park, N.Y. — Upstate Concert Hall
3/15 — Patchogue, N.Y. — The Emporium
3/16 — Providence, R.I. — Fete Music Hall
3/17 — Lancaster, Pa. — Chameleon Club
3/18 — Howell, N.J. — Game Changer World
3/20 — Charlotte, N.C. — The Underground
3/23 — Fort Lauderdale, Fla. — Culture Room
3/24 — Tampa, Fla. — The Orpheum
3/25 — Pensacola, Fla. — Vinyl Music Hall
3/26 — Birmingham, Ala. — Zydeco
3/28 — Austin, Texas — Grizzly Hall
3/29 — Corpus Christi, Texas — Brewster Street Ice House