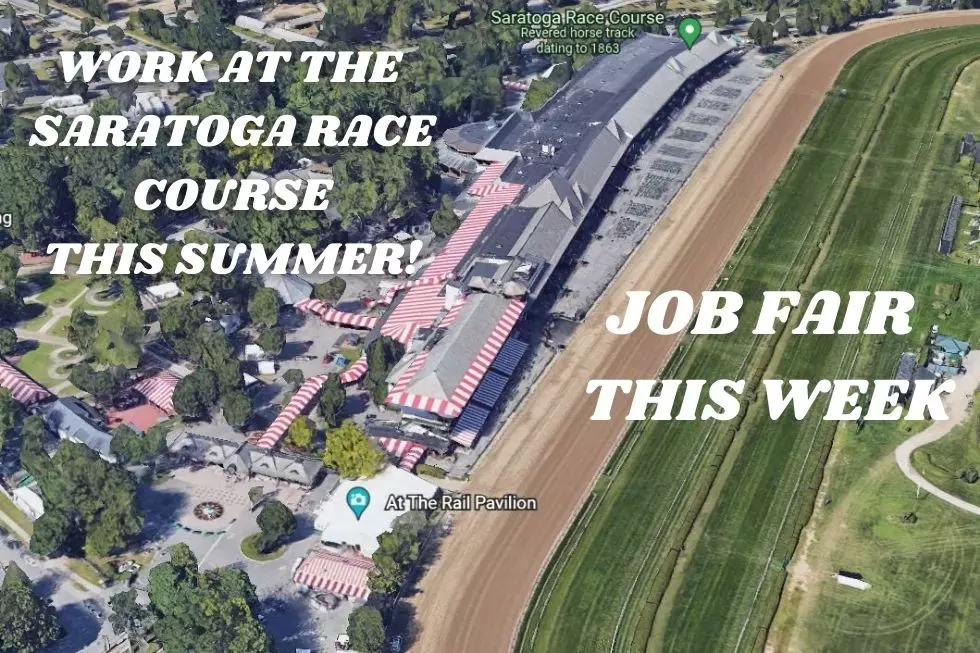 Wanna Work at the Saratoga Race Course? Job Fair This Week!
Google Earth
Saratoga Race Course is one of the most historic sports venues in the world and they are hiring for this year's meet. There are hundreds of jobs available and employees can be hired as young as fifteen years old. One of my first jobs was working as an usher at the Saratoga Race Course when I was just sixteen.
What Jobs Are Available at the Saratoga Race Course?
Typically the Saratoga Race Course hires about two thousand employees for the forty-day meet. As you can imagine, they are hiring for everything. The job fair will include hospitality ambassadors, guest services, cashiers, ticket scanners, parking attendants, Bets Squad representatives, ushers (super fun job), white caps, box office, betting clerks, security guards, porters, cooks, waitstaff, bussers, merchandise clerks, concessions cashiers and supervisors, cleaners, and warehouse workers.
Where and When is The Job Fair?
The three-day job fair will be held on Thursday, June 23rd, and Friday, June 24th from 10 am until 4 pm, and on Saturday, June 25th from 10 am until 2 pm inside the 1863 Club according to the Times Union. You can enter through the clubhouse gates and parking is available at the clubhouse parking lot.
What You Need to Bring
You must be at least fifteen years old and have New York State Certified Working Papers. To get a job as a security guard, cashier, or betting clerk, you must be at least 18. Security guard positions require a high school diploma or GED. You must bring a photo ID and a Social Security card or I-9 alternative.
The 2022 Saratoga Racing Season Runs from Thursday, July 14th through Monday, September 5th.
Blinders Off! Take a Peek at This $1.7 Mil Saratoga Race Course Themed Home
This home in Saratoga Springs sits on 3.5 acres. It features four bedrooms and five bathrooms along with a movie room and a billiards room. There are 5100 square feet of beautiful woodworking and subtle touches on the Saratoga Race Course. Well except for the beautiful statue out front of the horse and jockey and the starting gate backsplash in the kitchen. This home sold for $1.7 million. The asking price was $1.9 million.