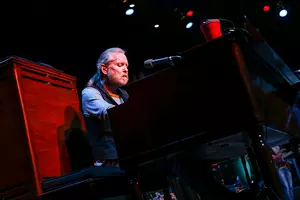 A Rock Girl Remembers Gregg Allman
Credit: Terry Wyatt/Getty Images
A crowd of people were around me, as I sat on our blanket on the grass, among a sea of legs and feet.  I couldn't see the stage (not that standing would help as I was so tiny) but I could hear the music.  The music was all that mattered.  My older cousin danced feverishly around me, and I hummed along in unison.  I could hear the instruments playing harmoniously together, a mix of rock music with a southern jam sound.  I had no understanding of who the Allman Brothers were, I had no understanding of Gregg Allman's legend or musical genius, I had no clue of ANYTHING about rock music or rock history.  I was simply too young.  I just knew that I loved the music.  This was one of my first concert experiences as a child, and I was hooked.
The Allman Brothers helped to incite my passion for rock- not just music, but live music.  I've seen them many times live throughout my life-time.  On tour with Santana, on tour with Tom Petty, at festivals.  I've seen Gregg Allman perform solo, and even had the chance to work for him.  In October of 2006, shortly after I moved back to Vermont and began working at a music venue again, Gregg Allman performed in the venue's "Ballroom."  With a capacity of approximately 750 to 800 people, I had no clue how I had the fortune of working such a phenomenal show only months after returning to the venue.
To call Gregg Allman a 'heavyweight' or a 'legend' seems an understatement.  To call him a performer or a rockstar just seems mundane.  To call him a singer, a songwriter, or a musician all seems to minimize who Gregg Allman was to music.  To me, particularly as a child growing up infatuated with his music, he just seems otherworldly.  I don't really know of one word to describe Gregg Allman and his impact and role in rock music, but I do know that I'll be playing some of his music tonight around the campfire in tribute.