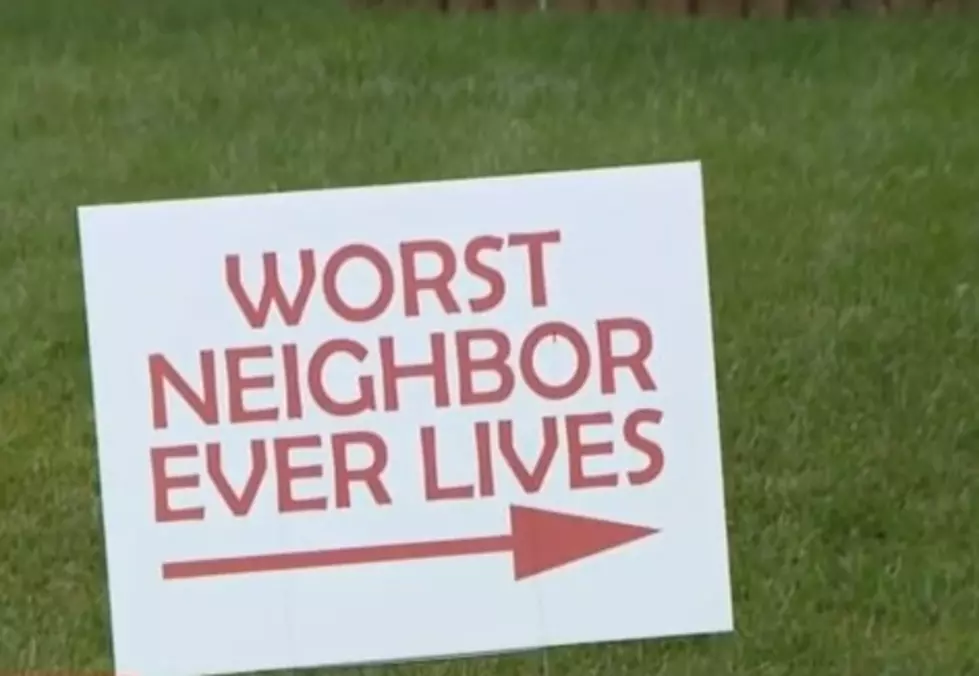 Feud Between Two Schenectady Neighbors is getting Out of Control
CBS 6
What's going on in this Electric City neighborhood? A pair of next door neighbors keep building an ever-growing barrier between their homes, which is really pissing off surrounding residents because its become an eyesore. Concerned neighbors called CBS 6 to look into the matter.
What they found out was the two neighbors have been at war for almost a decade. Apparently it started with a property line dispute, but escalated over the years.
The homes, on Van Ryn Avenue, are known as the blue house...
And the yellow house...
One neighbor accuses the other of throwing peanuts over the fence to squirrels.
Meanwhile, the next door neighbor has a relative with a severe peanut allergy.
Other complaints include one neighbor lining their side of the fence with bird feeders.
With the birds then using the roof of the neighbor as a toilet.
The yellow house put up blue tarps to block the blue house. The blue house put up this sign:
The feuding neighbors would not talk to CBS 6 on camera, but surrounding residents did:
There's no reason for the theatrics to be honest, as a neighbor its embarrassing

 

It's unacceptable and it needs to stop

 

Apparently they just don't get along, but to do this stuff, uh, it's really not nice
Police have been called to the two properties somewhere around 70 times over the years.
Later on, CBS 6 caught up with Schenectady Mayor Gary McCarthy and the city Building Inspector Chris Lunn. Lunn went to the homes to check out the problem, but apparently neither of the property owners are in violation of any city codes or ordinances. So for now, it looks like the blue tarp and nasty signs will stay put.
Albany's Ten Most Dangerous Neighborhoods in 2022
Every city has their areas that residents try to avoid, and Albany, NY is no different. Certain neighborhoods and streets in the city have fallen victim to urban decay, and have struggled with rising crime rates in recent years. Entering 2022, here are ten neighborhoods that are considered dangerous in Albany.
Albany's Ten Safest Neighborhoods Heading into 2022
There's too much negativity in the world, so, let's change that. If you're looking to move to the city of Albany, here are the ten "best" neighborhoods in the city of Albany, according to Niche.
Capital Region Neighborhoods That Are Best In NY For Families
Money Inc. compiled a list of the 20 best places in New York for families and 3 Capital Region locales made this list.