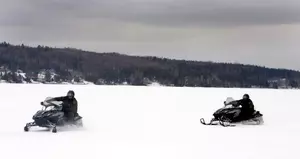 Snowmobile Trails Officially Closing For The Season
Credit: Joe Raedle/ Getty Images
As reported by News 10 abc, the DEC has announced that it is officially closing snowmobile trails and roads for the season.  While it still may feel like winter outside, and the snow doesn't seem to have fully cleared out yet, it's reported that the current conditions are too dangerous.  As of tomorrow, April 9th, gates will be put up by the DEC across the trails.  You can all of the counties in which gates will be going up and trails closing at News 10 abc.
In light of winter activities coming to a close, here's a few things I'm looking forward to around the Capital Region in warmer weather:
Concerts at SPAC! (Can it be June 16th already for Foreigner and Whitesnake)
Soft ice cream at all of the great ice cream joints around
Bass fishing up in the Paradox Lake Wilderness
Summer boat season and Lake George
Mountain Jam at Hunter Mountain!
Motorcycle rallies. I don't have one but I still love motorcycle season
What are you looking forward to with warmer weather (hopefully) upon us?