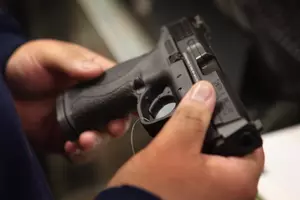 Update: Gun Theft Suspect in Custody
Credit: Scott Olson/Getty Images
Last week, I blogged about the second Capital Region gun store that was robbed within only a week.  The first store robbed was a Target Sports in Glenville on October 23rd, and only a few days later on the 29th, NY Shooter Supply on Central Ave. was robbed.
Well, as an update, according to the Times Union, one of the suspects in the Glenville robbery is now in custody.  23-year old Christian Roman is in custody, however they are still looking for another suspect, 36-year-old Jose Fontanez. A large reward of $15,000 is also being offered for information leading to the arrest and conviction of those responsible for the burglary.  Get all the info at the Times Union.
Well, I for one am glad to see at least someone in custody.  There's more suspects out and about, and hopefully they get caught as well.  Burglaries of weapons are nothing to be OK with, and this is way too close to home.