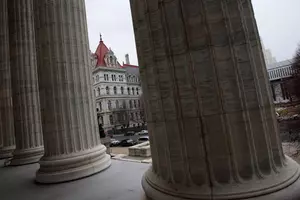 Another Capital Region Killer Gets Released on Parole
Credit: Chris Hondros/Getty Images
After being denied parole four times, a Capital Region killer has been released.
One would think a horrific murder would be enough to spend the rest of your life in prison.  But apparently, the murder of your wife, placing her body in a car trunk, and lying about it in public is not.  The Times Union has reported that Donald Bent has been released from prison on parole, after being denied 4 times since coming up for eligibility.
He was made free August 2nd, at 86 years old, after spending 32 years in prison.  As the Times Union reported, and for those unaware of Donald Bent's history, in 1986 he strangled his wife and then stuffed her body in a car trunk while pretending to be worried and grieving publicly on television.  I do understand the worrying part- not that I would EVER murder someone- but I imagine that if one did there would be worry. Just not about the person - probably about getting caught instead.