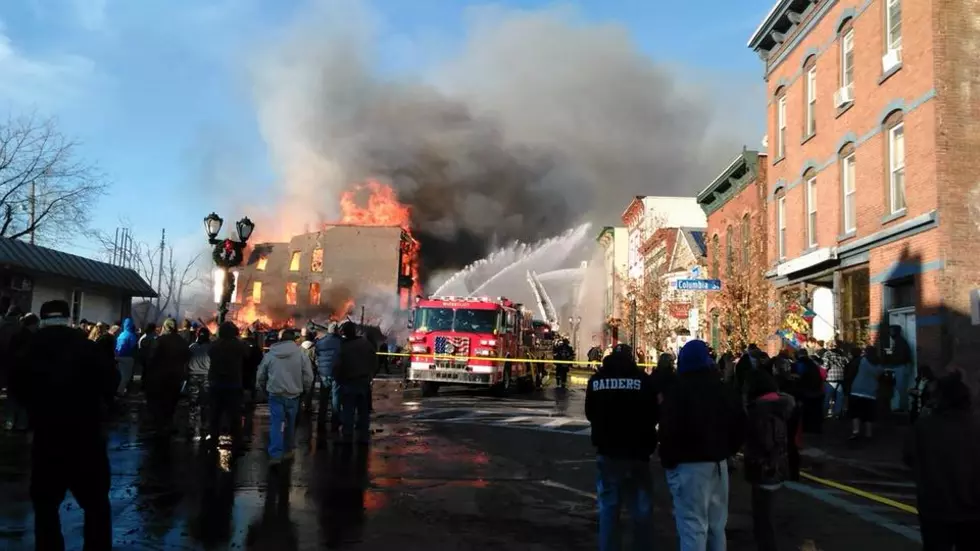 Help Cohoes Rise and Recover During Q103's Rebuild Cohoes Relief Effort
Schoharie Co. Fire Wire & News Facebook
This Monday the Q will be broadcasting live from Cohoes and collecting donations to help those affected by the Remsen St. fire. Here's your chance to let them know the Capital Region cares about Cohoes.
Last Thursday afternoon disaster struck on Remsen St. in Cohoes when a backyard barrel fire was stoked by 20 and 30 mile per hour winds and subsequently ended up catching multiple city blocks on fire. Over the weekend the damage to Remsen St. has risen to 31 buildings impacted, roughly 26 people displaced, and many others without jobs. Officials are still assessing the total damage done to homes and business in the area and the process could take weeks to complete.
As someone who lives in a city and has had neighbors that have had some questionable backyard fire pits the devastation on Remsen St. in Cohoes has literally been a nightmare I have had on more than one occasion and I couldn't imagine actual reality that the residents of Cohoes are going through right now. Myself and Q103 would really like to help those affected by this horrible event and show them that the Capital Region cares about Cohoes.
Join Q103 and myself as we broadcast live from Dunkin Donuts at 92 Saratoga Street in Cohoes  this Monday, December 4th from 10am to 3pm, where we'll be collecting cash donations and goods to help those affected by Thursday's fire.
If you can't make it to Cohoes during the day and you would still like to help you can also visit any Cap Comm Federal Credit Union and make a donation to the Blue Friday Rebuild Cohoes account.