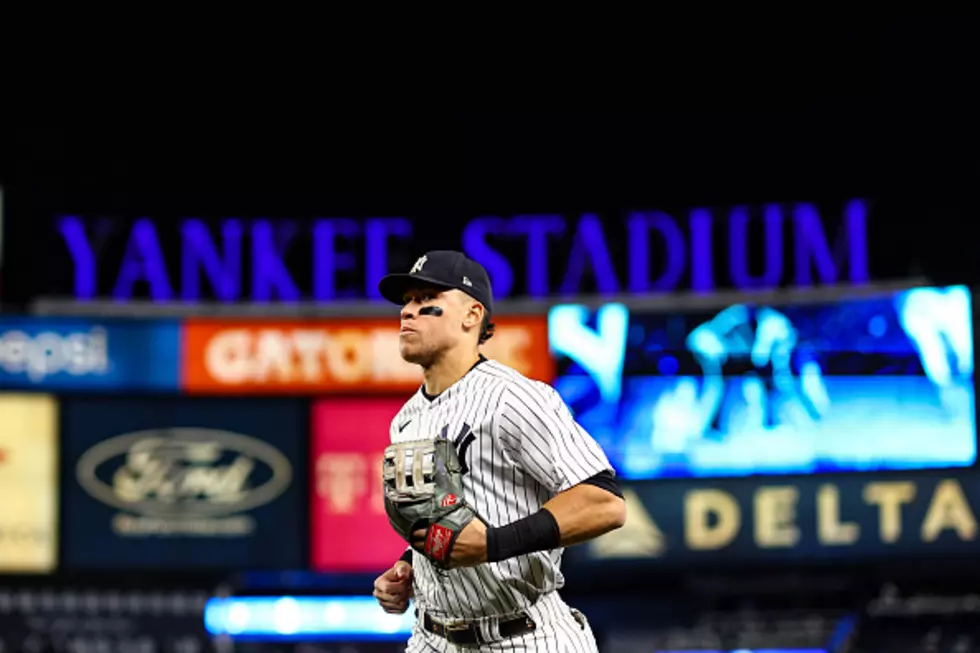 New Yorkers Could Be Hours From Saying Goodbye To Aaron Judge
Getty Images
At 5pm on Thursday, Major League Baseball teams will have an open opportunity to sign the predominant favorite to win the 2022 American League MVP, Aaron Judge. New York Yankees fans will sit on pins and needles, as organizations begin to make their offers to the larger than life #99. Early reports out of the general managers' meetings in Las Vegas were that "league personnel" believe Judge will return to the Bronx. However, there are a few teams ready to complicate that transaction and have the cash to do it.
The San Francisco Giants are one of those teams. Judge grew up a Giants fan in the Bay Area. San Francisco is poised to make a run at the Yankees' slugger in order to try to keep pace with the Los Angelas Dodgers and the San Diego Padres. Giants' Chairman Greg Johnson told sports.yahoo.com during the season, "As you know, we have a lot of flexibility coming into this offseason and we're well aware of the (free agent) shortstops and the person who can hit in the Bronx that is out there."
Being aware is one thing but the willingness to pony-up hundreds of millions of dollars for one player is another. However, following the season, Giants team president, Farhan Zaidi said the Giants "do have the flexibility to be involved in every possible option on the table." San Francisco may end up being the most difficult competition for Judge's services, especially if the slugger does not like the way the Yankees are negotiating with him. "The Captain" Derek Jeter went through an ugly negotiation with Brian Cashman for his last contract.
Besides the Giants, the Dodgers and the Mets will most certainly kick the tires on Judge. Los Angelas loves the big splash and has the money to make a run at the home run champ, with the huge contracts of Trea Turner and David Price coming off the books. The Mets have the money. However, I don't see owner Steve Cohen slapping his crosstown brethren, Hal. Yes, Mets fans would go wild but business is business. Financially speaking, there is a need for civility between the Yankees and their little brother in Queens. I think Judge bolts for San Francisco. The Giants need to make a splash more than Brian Cashman likes to renegotiate offers he has already made...It all starts Thursday at 5pm!
10 Biggest Questions Facing The New York Yankees This Offseason
What do the New York Yankees have to do in order to win a World Series title in 2023?
10 Lost Stores Upstate New Yorkers Miss the Most at Xmas Time