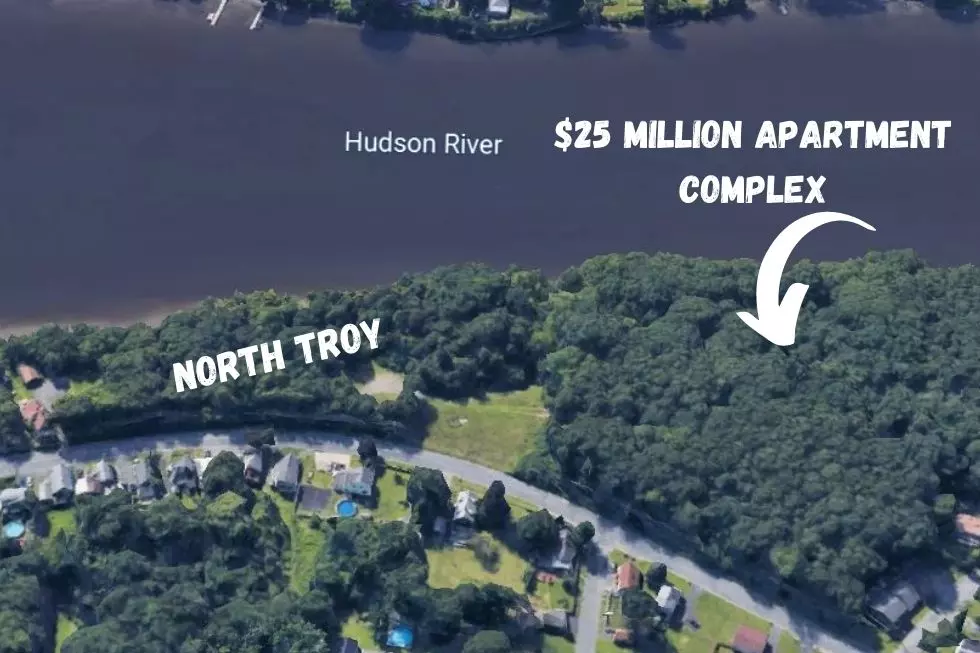 North Troy Closer to $25 Million Apartment Complex But Not Everyone's Happy
Google Earth
There is a plan in front of the city to build a twenty-five million dollar apartment complex. It would be built along the Hudson River in North Troy. This week, they are one step closer to building it but not without opposition.
Where Exactly Will the Apartment Complex Be Built?
Kevin Vandenburgh proposed the plans for the apartment complex. He hopes to build three apartment buildings that would have two hundred thirty-one apartments in all. The apartments would be located just north of Hannaford on 126th Street in North Troy.
The three buildings would be built along the waterfront and leave 2.5 acres of green space. The space would take up about eleven acres and one of the acres is next to the town of Schaghticoke according to the Albany Business Review.
Who is Opposing This Apartment Complex?
There is an advocacy group called the Friends of the Mahicantuck and they are fighting to protect that land because it is the last untouched part of the forest in North Troy's riverfront. They claim that the land is sacred and there is historic, ecological, and cultural significance.
There was a study to see if Native American artifacts on the land but found the land was not used for a burial site.
A representative for the Friends of the Mahicantuck said that the group is "outraged" by the ruling and went on to say, "is a disservice to Troy's citizens and shortsighted, considering the ecological and cultural resources that will be destroyed by this project."
What Happens Next?
The Troy City Council will hold a public hearing on the rezoning that will be needed on May 25th. Then the council may be able to vote in June on whether to approve the new zoning. If that gets approved, the planning commission would review the site plan.
Abandoned Camp in Upstate NY Gives Off Major Horror Movie Vibe
A hiking trail between Syracuse and Rochester in Upstate New York is a favorite for thrill-seekers because you can wander through an eerie girl scout camp, abandoned 30 plus years ago.
WARNING: Under no circumstances should you enter this property. By doing so you risk bodily harm and/or prosecution for trespassing on private property.