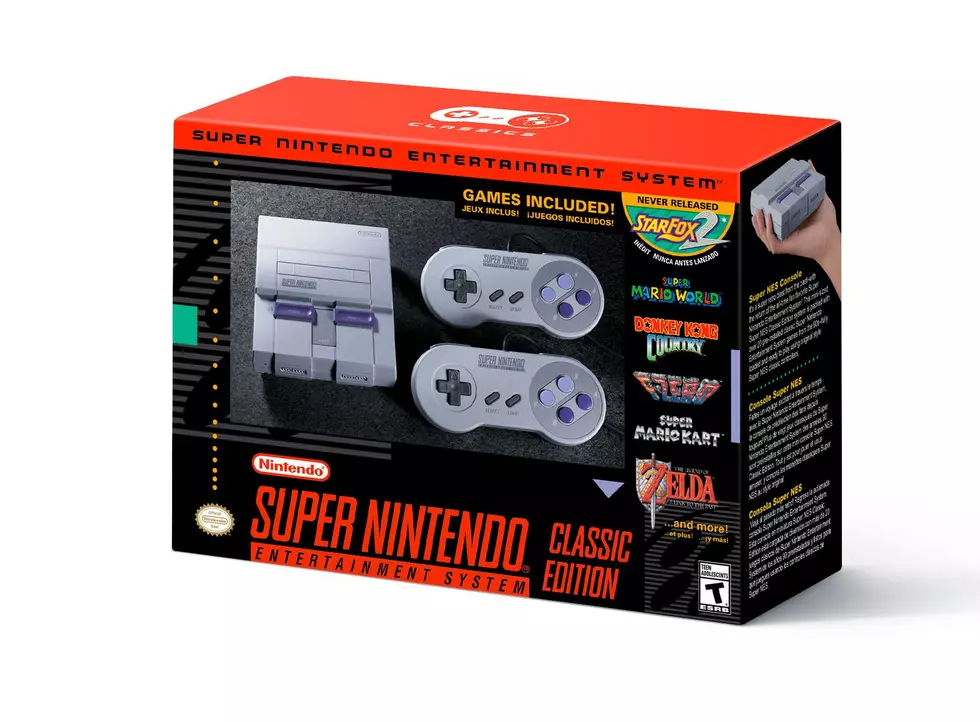 Brace Yourselves, the SUPER NES Classic is About to Hit Shelves
Nintendo Facebook
If you were bummed about the discontinuation of the NES Classic get ready to get excited again because the SUPER NES Classic is coming!
So about this time last year it was announced that Nintendo would be releasing something called the NES Classic. Which actually turned out to be pretty awesome it was a plug in play version on the Nintendo Entertainment System from your childhood that plugged straight into your TV and already came loaded with 30 of your favorite games on it for just $60!
The NES Classic ended up being one of the most sought after gifts for the 2016-2017 holiday season with most stores running out almost immediately when they went on sale in November and aside from a couple small shipments across the country after the holiday's you couldn't get your hands on one unless you were willing too pay top dollar to someone who was lucky enough to snag one.
Not to long after the holidays were over it was announced that Nintendo would be discontinuing the NES Classic which bummed a lot of us out who were holing on to hope that after the holiday craze was over we would be able to get our hands on one.
Well, it looks like the reason for the discontinuation is because it looks like the craze is about to start right back up again because today Nintendo announced that the SUPER NES Classic is set to be available on September 29th!
The SUPER NES Classic will run you about $80 and again be a plug and play system that will come with an HDMI cable, a charging cable and, two SNES controllers instead of one. Like the previous system the SUPER NES Classic will come pre-loaded with 21 games which according to NEWS10 includes:
the never-before-released Star Fox 2. The sequel to the original Star Fox game was created during the Super NES era but was never released
A full list of included games can be found below. What do you think? Are you as excited for the SUPER NES Classic as you were for the regular NES Classic?
Contra III: The Alien Wars™
Donkey Kong Country™
EarthBound™
Final Fantasy III
F-ZERO™
Kirby™ Super Star
Kirby's Dream Course™
The Legend of Zelda™: A Link to the Past™
Mega Man® X
Secret of Mana
Star Fox™
Star Fox™ 2
Street Fighter® II Turbo: Hyper Fighting
Super Castlevania IV™
Super Ghouls 'n Ghosts®
Super Mario Kart™
Super Mario RPG: Legend of the Seven Stars™
Super Mario World™
Super Metroid™
Super Punch-Out!! ™
Yoshi's Island™